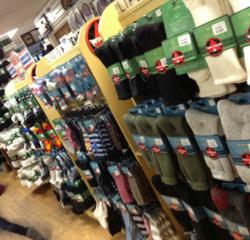 Elma, NY (PRWEB) February 28, 2012
The Made In America Store has expanded it's display of Wigwam socks at it's store in Elma, New York. The all American made sock company that started with a small wall display, now has a whole hallway to show the Wigwam socks. Devoted to only selling %100 American made products, the Made In America Store offers a pair of socks for work, play and everything in between. With the "Buying made in America" movement on the rise, Wigwam socks are selling because of the quality and affordability.
So what exactly is driving consumers to the Made In America Store for Wigwam socks? With current affairs stressing about the outsourcing of jobs and the decrease of productivity at manufacturing jobs due to no work, people are more aware than ever of how important it is to buy American made products. This mindset of buying American and socks being a necessity in everyone's life has made Wigwam socks such a hot item.
The Made In America Store offers a large e-catalog of %100 American made socks ranging from cushioned work boots socks to light-weight cross country running socks.
Along with the wide selection of socks Wigwam offers, the most notable trait is the manufactured quality of the socks. The double layer of stitching show how much attention was paid to detail. The stitching and softness of the Wigwam socks comes with the quality that consumers would expect from a American made product.
"I believe in quality of American made products, not the China throw-away world" says Mark Andol, Owner of the Made In America Store. Andol believes the economy has lost it's way, and that buying American will bring it back on course.
Recently the Made In America Store teamed up with Wigwam to start a promotion that would benefit the military personnel serving in Afghanistan. For every pair of socks purchased at the Made In America Store, Wigwam would donate another pair of socks to the soldiers overseas. Together Wigwam and the Made In America Store donated over 850 pairs of socks which valued in at $3100. The "Socks For Soldiers" proved to be a success, and that people wanted to help
The Made In America Store located at 900 Maple Street in Elma, New York. The Made In America Store is devoted to selling only %100 American made products, right down to the packaging. Visit the Made In America Store at http://www.saveourcountryfirst.com
###