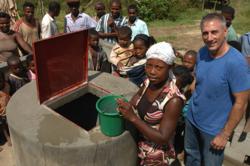 By helping to provide easy access to clean water, we are enabling the farmers to more efficiently and effectively grow and harvest their vanilla beans and to increase their incomes," says Tony Bedard, Frontier CEO.
Norway, Iowa (PRWEB) February 28, 2012
On a recent sourcing trip, Tony Bedard, CEO for Frontier Natural Products Co-op™, saw firsthand the positive impact Frontier's Well Earth™ program is making for our vanilla partner in Madagascar. Thanks in large part to a grant of $40,000 donated through Simply Organic's One Percent Fund (SO1%), clean water is now easily accessible to thousands of people in 38 villages. A new YouTube video has been posted that highlights the Madagascar Well Earth project supported through SO1%.
The 49 new wells provide cleaner water for the villagers' use and save the women and children in the villages several hours a day of walking to streams that are sometimes miles away. The wells also supply the grower co-op with a convenient and stable source of clean water for processing their premium-quality vanilla beans. "Working with these vanilla farmers has been an exciting development in our Well Earth sustainable and ethical sourcing program," says Bedard. "By helping to provide easy access to clean water, we are enabling the farmers to more efficiently and effectively grow and harvest their vanilla beans and to increase their incomes."
SO1% takes one percent of net sales on all Simply Organic spices, seasoning mixes, baking flavors/extracts, and baking mixes and uses it to support organic agriculture through education, research, and grower development.
"SO1% is having a remarkable impact both domestically and internationally," says Kory Kazimour, senior brand manager for Simply Organic. "Every time consumers purchase a Simply Organic item, not only do they receive a high-quality product, but they're also supporting important organic programs.
During 2011, SO1% surpassed half a million dollars in total donations. "We're pleased to have passed this major milestone in donations to worthy organic agricultural and educational institutions and projects, but we're not stopping there," remarks Kazimour. "Now that people know they make a difference in people's lives when they buy Simply Organic products, we think we'll break the million-dollar threshold in much less than the ten years it took us to get to this point."
Note to editors: Photographic images of the Madagascar water wells or other specific Well Earth projects are available upon request.
Simply Organic®
Simply Organic, an all-organic brand from Frontier Natural Products Co-op, offers an extensive and growing selection of certified organic spices, seasonings, baking flavors and mixes while supporting organic agriculture around the globe. By providing the best available organic seasonings and donating one percent of sales to organic agriculture and education, Simply Organic genuinely offers "Simply Healthy Living. Simply Great Taste." Find out more at http://www.simplyorganic.com. Twitter us at @SimplyOrgFoods.
Frontier Natural Products Co-op™
Founded in 1976 and based in Norway, Iowa, Frontier Natural Products Co-op offers a full line of natural and organic products under the Frontier, Simply Organic®, Aura Cacia® and Aura Cacia Organics® brands. Products include culinary herbs, spices and baking flavors; bulk herbs and spices; and natural and organic aromatherapy products. As a co-op owned by the businesses that buy from it, Frontier exemplifies the values of its member/owners – quality products, reliable information, a family-friendly workplace, and environmentally and socially responsible business practices – the values at the core of what is now widely recognized as sustainability. For more information, visit Frontier's website at http://www.frontiercoop.com.
###