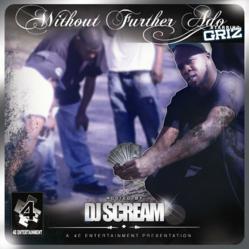 Miami, FL (PRWEB) February 29, 2012
Rap artist Griz recently released his mixtape "Without Further Ado." Coast 2 Coast presents the project, which is hosted by DJ Scream, along with 4E Entertainment. It is now available for free download. "Without Further Ado" features Griz on tracks including "Make It Clap," "We Know How To Hustle," "Marriage Counselor," and "Give 'Em Some Game."
4E Entertainment of Birmingham, Alabama has the pleasure to introduce to you hip hop's next great trailblazer, Griz—the Hometown Hero. Griz was raised by his mother to be opinionated and always speak the truth, no matter the consequences. His mother taught him to live by the motto "Better to die on your feet than to live on your knees." Antonio "Griz" Johnson knew at a young age that one day he would get paid to run his mouth. A remarkable rapper and lyricist, he unknowingly ventured into hip hop early on through writing poetry to express his inner turmoil. Poetry eventually turned into lyrics as he began to share his rhyme skills with others through the rap game. Griz's rap skills began to gain regional attention when he won his first freestyle battle in 2002 at the Sun Lab Freestyle Battles, where he captured the crowd's attention with his rhyming skills and artistic flair.
Realizing that music was what he was meant to do, Griz had a decision to make—either music or the streets. The streets would always be a part of his life, but he knew if he wanted to succeed at the rap game, he would have to hustle just as hard at his music as he did in the street game. He signed with 4E Entertainment in 2010 and released his smash EP, "I Told Y'all." Griz's maturation as an artist has given him confidence, and he lives by the code that no matter what you go through, anything is possible as long as you stay determined and believe in yourself.
"Without Further Ado" is available for free streaming and download at http://coast2coastmixtapes.com/mixtapes/mixtapedetail.aspx/griz-without-further-ado-the-dj-scream-edition.
# # #