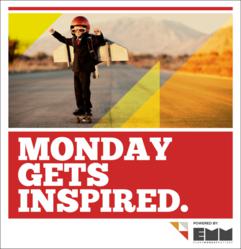 Great businesses are built from the inside out.
Seattle, WA (PRWEB) February 28, 2012
Every Monday Matters is spreading the message that "You Matter" through their employee engagement program which gives businesses a road map to create a sustainability program within their company. It may seem simple, yet those words "You Matter" are often not realized in the workplace today. As businesses want to become more socially responsible, Every Monday Matters' programs include a series of compelling action items, coupled with community outreach events, which inspire employees to get involved. But, how does that translate to business success?
In a recent article from Forbes Magazine, "The Top 10 Trends in CSR for 2012", Employee Engagement emerges as the number three top trend in business. The article cites a recent study from The Society for Human Resources Management, which compares companies actively pursuing worthy environmental and social efforts with those companies who do not have strong sustainability programs. The study discovered that employees are more engaged and that employee morale was 55% better, business process was 43% more efficient, public image was 43% stronger, and employee loyalty was 38% better than companies which have poor sustainability programs. Anne Hess, Regional Account Manager for Every Monday Matters comments, "Our program works with the whole organization. When everyone in the company from the CEO to the entry level employee participates in our program they understand that they matter and can make a difference each day in their company, home and community. This transforms the corporate culture and translates to business success."
As companies are working to improve the bottom line, increase employee satisfaction, retention and recruit motivated, committed employees, an environment where employees feel appreciated is critical and the "You Matter" message makes a powerful impact. In recent studies companies with highly engaged employees have three times the operating margin (Towers and Watson) and four times the earnings per share (Gallup). Matthew Emerzian, CEO of Every Monday Matters, states, "It is no longer enough for a company just to write a check for a cause and coin themselves socially responsible. This ignores today's employee. They want to be involved, roll up their sleeves, and feel they've played a role in making a difference in the world."
Based on the 2011 Morehead Employee Engagement survey, which compares and ranks companies, the Every Monday Matters Corporate Program improved one healthcare company's ranking from the top 25% of companies surveyed to the top 7% in just one year. Stephanie Gallo, VP of Marketing at "E&J Gallo Winery acknowledges the program by saying, "Thank you for creating such a powerful program. It has had a tremendous impact on our employees and company culture. It has truly made a measurable difference."
About Every Monday Matters:
Every Monday Matters is a national movement of ordinary people doing extraordinary good things for others. This organization has positively affected the lives of thousands of students with the YOU MATTER K-12 Curriculum Program that is now in over 1000 schools and in 42 states. The YOU MATTER CSR Employee Engagement Program, which includes clients such as E. and J Gallo Winery, Carolinas Healthcare System, J.S. West & Companies, Lincoln Harris, Memorial Medical Center , and State Farm Insurance to name a few, is becoming a recognized solution for Employee Engagement and Corporate Social Responsibility for many organizations nationwide.
# # #