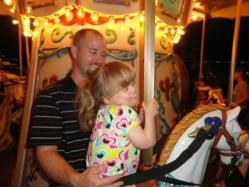 I know the support is out there if enough people hear Emily's story...
Seminole County, Florida (PRWEB) February 29, 2012
Emily was born almost 8 years ago and loves playing with balloons, splashing in the bath, and watching Mickey Mouse Clubhouse. She is a special little girl, literally the only one of her kind in the world. At birth, the doctors diagnosed her with Chromosome 2Q36 Deletion Syndrome. Genetic specialists have found no record of anyone else having the same condition anywhere in the world. This means that no one can tell her parents what to expect for Emily's development, health, or quality of life.
The chromosome deletion has caused severe delays physically and cognitively, as well as numerous medical difficulties, including 13 surgeries, a feeding tube, asthma, seizures, mild hydrocephalus, hearing loss, bone abnormalities, horseshoe kidney, and multiple other issues. She also has autism, which causes her sensitivity to sounds, lights, and textures, anxiety in unfamiliar environments, and difficulty coping with change.
Her mother, Jessica, cares for her full time and in 2010 found a special needs school for Emily where she has made significant progress and is responding well. However, Emily requires more adult assistance at her school and in May of 2012, her tuition will increase beyond what her mother Jessica and her husband can afford. They are in need of an additional $7200 to cover the annual tuition costs and have set up a website for donations. At the time of this story, they have raised $3870.
When local Brandon Massage & Day Spa owner Jan Jordan of DayDreams Day Spa heard Emily's story, she tried to think of how she could help the family reach their goal. "Emily is the niece of a close friend of mine and I know the support is out there. If enough people hear Emily's story, they will receive the donations they need and maybe enough for next year's tuition as well." She is helping spread the word online as well as offline about Emily.
You can read more about Emily's story and even make a donation online by CLICKING HERE.
###