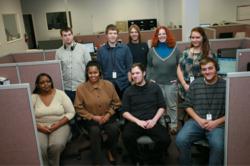 It has been a pleasure working with Sound, says Kara Gardner, Customer Service Manager at LivOn Labs. We have high standards when it comes to the quality of our customer service and their team always treats our customers and us with courtesy and respect.
Seattle, Washington (PRWEB) February 28, 2012
Sound Telecom, a leading nationwide provider of telephone answering, call center and unified communication services recently designed and implemented a responsive, innovative outsourced call center service solution for LivOn Laboratories, Inc., a leading edge health research, development and marketing company specializing in alternative health care products.
LivOn Labs selected Sound Telecom's call center solutions after experiencing numerous problems with an under-performing call center vendor. Matters that instigated the change included technology shortcomings, service and quality issues, call abandonment, excessive hold times and order mistakes which compromised proper order fulfillment.
"LivOn approached Sound Telecom because they had an under-performing call center that was causing them to lose customers and sales," said Brian Gabriel, Sound Telecom's Chief Operations Officer. "Sound Telecom's operation and programming teams built a robust 24/7 support system in under 5 days. We corrected their service issues and immediately improved customer service and sales. Sound Telecom was successful because the team at LivOn Labs is dedicated and passionate about what they do. They helped us at every turn to build this program from the ground up."
Due to LivOn's quick turnaround requirements, Sound Telecom undertook a massive programming challenge and its adept programmers developed a solution in five days that not only worked well for rapid agent information retrieval, but allowed LivOn Labs to regularly update, maintain and change a very robust SKU inventory management system Sound Telecom developed using its Intelligent Series software by Amtelco. This system also facilitated quick assimilation of multiple promotional updates required by the platform. Sound Telecom proficiently resolved the abandonment, hold time and service quality problems. Fulfillment deficiencies were rectified by an efficient FTP system implementation that automatically batched and delivered orders for immediate fulfillment.
The resolution of LivOn Labs order processing issues and improved customer satisfaction has allowed Sound Telecom's agents to respond effectively and efficiently to increased product promotion and the brisk growth currently being experienced by LivOn Labs. Sound Telecom continues to provide scalable systems and solutions to meet LivOn Lab's aggressive goals.
LivOn Labs experienced immediate and substantial benefits by outsourcing their call center needs to Sound Telecom. This allowed them to focus on their core competencies while drawing on Sound Telecom's 25 years of call center experience. LivOn Labs immediately accessed and leveraged Sound Telecom's extensive investment in call center technology, methodologies and staff and benefited from proven processes developed over 2½ decades of serving diversified industry sectors. Significantly reduced staffing, operating and training costs allowed LivOn to quickly deliver enhanced customer service and satisfaction, improved efficiency and productivity and utilization of a model that scaled with their rapid growth.
LivOn was so satisfied with Sound Telecom's work that they started an agent incentive program that awards call center employees for going above and beyond. "It has been a pleasure working with the Sound Telecom team," says Kara Gardner, Customer Service Manager at LivOn Labs. "We have high standards when it comes to the quality of our customer service, and their team members always treat our customers – and us - with courtesy and respect."
"It is a pleasure to work side by side with LivOn Labs," says James Rader, Call Center Operations Manager at Sound Telecom. "The values that they present are so closely aligned with what Sound Telecom strives for on each and every call that the relationship was bound to succeed. Every call center cherishes a partner like LivOn Labs that shares the same values and respect for a quality customer experience."
About Sound Telecom
Sound Telecom is a leading provider of 24 hour Telephone Answering, Call Center and Unified Communication Services, headquartered in Seattle, Washington and professionally serving thousands of customers throughout the United States and Canada with USA based agents. The twenty-five year old company has offices in Seattle and Spokane, Washington and Denver, Colorado. For more information, please visit http://www.sound-tele.com.
About LivOn Labs
LivOn Laboratories, Inc. is a leading edge health research, development and marketing company specializing in alternative health care products. LivOn Labs launched its flagship product, Lypo-Spheric™ Vitamin C, in 2004 and celebrated the sale of over one million cartons in 2011. The Lypo-Spheric™ product line also includes Lypo-Spheric™ AGE Blocker – a complex formula of B-vitamins, trace minerals and cinnamon extract, and Lypo-Spheric™ GSH – the only way to get Glutathione in the bloodstream without painful injections. All Lypo-Spheric™ products use Liposome Encapsulation Technology (LET) to protect essential nutrients from breaking down in the digestive tract, making them up to 98% bio-available at all times. Lypo-Spheric™ products are available directly to consumers at 1-866-790-2107 or http://www.livonlabs.com. All products are backed by a 100% Lifetime Satisfaction Guarantee.
Contact Information
Sound Telecom
Michael L. LaBaw, President
800-577-1550
mlabaw(at)sound-tele(dot)com
http://www.sound-tele.com
LivOn Laboratories, Inc.
Sylvia Pear, Marketing Manager
702-255-0265 ext 107
sylvia(at)livonlabs(dot)com
http://www.livonlabs.com
# # #