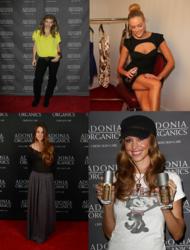 Los Angeles, CA (PRWEB) February 28, 2012
After a limited release to celebrities over the past year, this popular organic self-tanning collection will finally be available to the public. Adonia Organics' new Bronzing Collection is made with completely organic ingredients, promises no streaky appearance, no unpleasant smell and no orange ugliness.
Adonia Organics is releasing Adonia Bronzing Glow, a self-bronzing body spray and Adonia Bronzing Serum a self-bronzing facial serum. Both products are made with a gentle blend of organic ingredients, are completely odorless and go on streak-free for a perfect bronze glow.
"Biggest Loser" star and trainer, Cara Castronuova says "The Bronzing Collection worked great on my skin. I love to try out new self-tanners in my home. As a wellness professional, I know the danger of tanning under the damaging rays of the sun. But who doesn't love a beautiful tan? I do! The Bronzing Collection by Adonia Organics is a good solution, the tan is magnificent- a beautiful chocolate color with absolutely no streaking or orange- just gorgeous natural tan color."
The Adonia Bronzing Collection has been available to celebrities and industry insiders within the past year but is now being made available to the public. The Adonia Bronzing Collection promises no streaks, dries in seconds, and delivers a perfect sunless tan every time. Actress, Shannon Elizabeth swears by the line, "I love Adonia's products, and the Adonia Bronzing Collection is my favorite" and Singer Jordan Sparks says, " The Adonia Bronzing Collection is great."
The Adonia Organics' Bronzing Collection is an innovative In-Home Spa Treatment that employs a proprietary, unique, time-tested combination of 12 Organic Essential Oils from the Greek Islands. These gentle Greek Botanical Oils have been micro-blended and balanced to give you a healthy, Greek, sun kissed bronze tan; without ever setting foot in the sun.
The Bronzing Collection has an impressive roster of celebrity fans, including Denise Richards, Shailene Woodley, Pamela Anderson, Nicole Scherzinger, Lacey Schwimmer and Joanna Krupa.
The Adonia Bronzing Collection is available for purchase at http://www.adoniabronzing.com
###