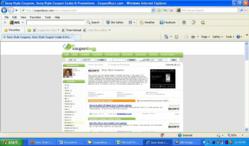 We are in the business of connecting individuals with the very best product for the very least money.
Houston, TX (PRWEB) February 28, 2012
CouponBuzz.com announced today that they are featuring a new Sony coupon for 15% off all VAIO Z Series laptops. The coupon is prominently displayed at the top of their new webpage devoted to Sony coupons and special offers. The savings offer for 15% off the fully customizable VAIO Z Series can save consumers shopping for a new laptop up to $700 off standard retail pricing.
The significant savings represented by the 15% off Sony coupon are a big draw for CouponBuzz.com's recently launched webpage. The VAIO brand for laptops is one of Sony's most successful lines, within a company renowned for quality and technological innovation. The VAIO Z Series are Sony's premium line of laptops, with incredibly rapid boot time, small, lightweight form factor and a sophisticated line of customizable options. Customers can select their CPU type (Intel Core i7 or Intel Core i5), CPU speed, hard drive size, multimedia drive, and many more customizable options. The Z Series come in black, gold and silver, and will easily satisfy every computing need.
"Consumers in the market for a Sony VAIO Z Series already know they want the best that money can buy," said Justin Bowen, CEO of CouponBuzz.com. "However, that doesn't mean they're not interested in getting a sweet deal on a premium laptop. Which is where we at CouponBuzz come in. We are in the business of connecting individuals with the very best product for the very least money."
With a proven history of technological genius, Sony is a brand that consumers can purchase with confidence. And their top tier line of laptops, the VAIO Z Series, is high on the wishlist for every Sony fan. CouponBuzz.com's new website at http://couponbuzz.com/sony-coupons.html is filled with information and links to all the most exciting and current Sony coupon codes and special sales. Featuring offers like the new 15% off Sony coupon for the VAIO Z series, it makes the top-tier a little more reachable.
###