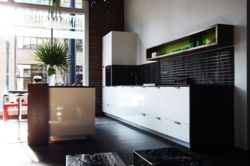 Today the kitchen is center of home life. It's become a place for feeding, nurturing and communing – the heart and hearth of the home. So kitchens demand elan from both designers and builders.
Portland, Oregon (PRWEB) February 28, 2012
Through a series of three kitchen remodeling salons this spring and summer, Portland remodeler Hammer & Hand and interior design firm Bright Designlab will present insider insights about kitchen design and construction, debunk common remodeling myths, and facilitate a lively exchange with attendees about their plans, questions and dreams for kitchen remodeling. The salons will be held on April 26, May 22, and July 12 at the Retail Studio, in the heart of Portland's Pearl District.
"Today the kitchen is the center of home life," said Daniel Thomas, CEO of Hammer & Hand. "It's become a place for feeding, nurturing and communing – the heart and the hearth of the home. So kitchen remodels demand elan from both designers and builders."
In the remodeling industry much has been made of the kitchen "work triangle" of sink, stove and refrigerator, fueled by the notion that the 1900s' efficiency and time-motion study movements might be instructive to modern kitchen design. But this approach can ignore the fact that the home kitchen is more than just a place for food preparation. Gone are the days of the solitary cook preparing the family dinner in isolation.
Instead, the 21st century kitchen is the high-traffic focal point of the home. It provides the core functions of storing, cooking, and cleaning. But it's also a bona fide living space in its own right, usually with multiple entry and exit points and inside/outside connections: a convergence of spatial and programmatic forces. It is this new reality that Hammer & Hand and Bright Designlab will explore through their kitchen salons.
"After hundreds of remodels for Portland area homeowners, Hammer & Hand has learned a lot about kitchens and the needs and aspirations that our clients hold dear," said Thomas. "We're looking forward to sharing our hard-won lessons and presenting inspiring examples of spaces that have really delivered functionally, spatially and aesthetically."
The salons will be held at the Retail Studio, a collaborative space designed by Bright Designlab and built by Hammer & Hand, located at 404 NW 10th Avenue, Suite 101 in Portland, Oregon. The free events will run 6-8pm on April 26, May 22 and July 12. Thomas will co-present with Leela Brightenberg of Bright Designlab, using the Studio's show kitchen as an in-context teaching tool throughout the evening. Kitchen remodeling topics will include:

Successful collaboration between designer, builder and homeowner
Budgeting for remodels
Cabinet units, types, finishes, and construction
Countertops and backsplashes
Appliances and electrical requirements
Flooring choices
Plumbing fixtures
Code/permit considerations
Opportunities for spatial and programmatic success
Space is limited, so reservations can be made by emailing hello@retailstudiopdx.com
"These salons provide an intimate setting for real, meaningful exchange between homeowners and design/build experts," said Thomas. "It's always an honor to engage in this dialogue and provide guidance to folks as they embark on a construction process that can seem pretty daunting at first."
Up-to-date information on the salons can be found by visiting Hammer & Hand's kitchen remodel page at http://hammerandhand.com/residential-remodel_kitchen.
ABOUT HAMMER & HAND
Portland remodeler and contractor Hammer & Hand is dedicated to stewardship of the built environment through craftsmanship and building science: everything from bathroom and kitchen remodels to new high performance green homes. http://hammerandhand.com
ABOUT BRIGHT DESIGNLAB
Bright Designlab is a full service integrated design studio with 25 years of expertise in interior design, graphic design and architectural photography. The firm focuses on superb and unusual design, sustainable practice and local craftsmanship. http://brightdesignlab.com
###