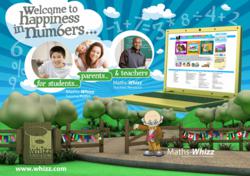 Singapore (PRWEB) February 29, 2012
Maths-Whizz is an online suite of services that raises standards in maths for five to 13 year-olds using individualised tutoring, whole class tools and application of best practices. Maths-Whizz is renowned for its ability to create excellent learning outcomes by building confidence and encouraging linked learning at home and in schools, creating a shared learning experience for students, parents and teachers.
The ICTLT, which will take place at the Suntec Singapore International Convention and Exhibition Centre, 27 – 30 March 2012, is a premier conference where delegates can be updated on the most current developments of educational technology. They will also be able to avail themselves of opportunities to collaborate with educators from other countries on the use of ICT to engage students and share best practice techniques and tips. Jointly organised by the Ministry of Education (MOE), Singapore, the International Society for Technology in Education (ISTE®), U.S., and the Academy of Principals (Singapore) it will highlight best practices and research. It will also feature seminars from education leaders from the Asia-Pacific region and around the world.
Richard will be joined by his colleague Madeleine and practising Maths-Whizz teachers from Singapore. They look forward to welcoming visitors to their stand(E24)at this important educational event. Both Richard and Madeleine have extensive experience of working with parents, schools and ministries of education to increase achievement levels in maths and are therefore very well placed to offer insight, information and advice on transformative approaches to maths learning. If you would like to schedule a meeting with Richard, Madeleine or the expert practitioner teachers at the event, please do get in touch.
For more information please see our 3 minute film http://www.whizz.com/demos/happiness-video_popup.html
###