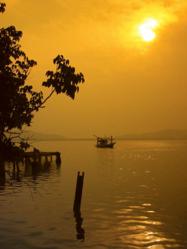 It is a culture shock for a Westerner to become integrated into the Asian way of life. I hope this book will help people appreciate what it might be like to leave their old ways of thinking behind and live and work in Asia.
Chanthaburi,Thailand (PRWEB) February 29, 2012
Bronwen Evans resigned her job as Radio New Zealand's Economics Correspondent 12 years ago to live in Thailand where she works as a corporate communications advisor for a large Thai company, and has established a resort and organic farm with her Thai husband Surin Laopha.
The award-winning eco-resort, Faasai Resort and Spa, is in a quiet fishing village called Kung Wiman in Southeast Thailand.
The book, which is a collection of essays and stories on various aspects of Thai culture, provides an insight into various aspects of expatriate life in Thailand.
"It is a culture shock for a Westerner to try to become integrated into the Asian way of life," said Bronwen. "I hope this book will help people appreciate what it might be like to leave old ways of thinking behind when they come to live and work in Asia."
Bronwen timed the release of the book to coincide the inaugural IncrediblEdge Summit in Auckland, New Zealand, March 5-6, where she will offer pre-launch copies of the book to those attending the Summit and speak about Thailand's sufficiency economy and her experience as a green entrepreneur.
She says other countries can learn a great deal from Thailand - a society which values toleration, generosity and kindness in daily life. In her view the Thai philosophy of the Sufficiency Economy is an interesting and people-focused economic model.
"It emphasizes moderation and reasonableness and stresses the importance of giving yourself immunity against external shocks.This can work at the individual and enterprise level and it has been adopted as policy by many private and public institutions in Thailand."
Bronwen admits it was difficult in the beginning to adapt her Western mind to the different Thai way of thinking. She notes for example the conflict between Western rationalism and Thai mysticism, Asian people's tolerance for ambiguity compared with Westerners stress on formal logic, and the importance given by Thais to maintaining harmonious relationships – sometimes at the expense of Western notions of speed and efficiency.
Her title essay, which is also the name of the book, is: From the Thai Court to the Fishing Village. Bronwen says "court" is an analogy for the modern Thai corporation, while the fishing village refers to Kung Wiman, the seaside village where they have built their home and resort.
She says although Bangkok is far more Westernized than the fishing village, an expatriate working for a Thai corporation still faces many challenges, as they must be aware of the hidden lines of relationships that form the power structure within an organization.
Other topics in the book include Thai Buddhism, magic and spirits, Songkran in Thailand, rough justice in the village, the role of the family, ecology in Southeast Asia, volunteerism, responsible tourism and the use of effective microorganisms in Thai agriculture.
About Faasai Resort and Spa
Faasai Resort and Spa is a 14 room eco-resort in Chanthaburi, Thailand about 200 kilometers southeast of Bangkok. Contact details: http://www.faasai.com. Tel: (+66 86 889 2595 (Bronwen) +66 81 3426234 (office)
Awards won by Faasai Resort and Spa

Best Small Hotel Thailand Green Awards 2011
Green award and special award for cultivation and use of herbs and spices from the Governor of Chanthaburi 2011
Outstanding service to the environment and nature in the Eastern region – Thailand Boutique Awards 2010
Best Small Hotel Thailand Green Awards 2009.
Runner-up in the budget category in the 2008 Wild Asia Responsible Tourism Awards.
###