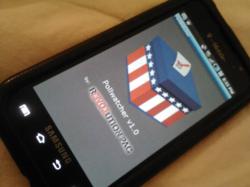 Supporters of honest elections called for this action, and we're beyond pleased to oblige.
Northbrook, IL (PRWEB) February 28, 2012
As primary voters head to the ballot box today in Michigan and Arizona, media outlets and the public have a brand new exit polling resource. Empowered by the state-of-the-art smartphone application PollWatcher v1.5, Revolution PAC teams will provide instant and verifiable voter data from polling sites in both states.
The move effectively ends the nationwide exit polling monopoly, as Edison Research has been the sole provider of exit poll information to the six major news organizations – ABC, CBS, CNN, FOX, NBC and the Associated Press.
"Today, we have boots on the ground to record the vote across both Michigan and Arizona," explains Revolution PAC chair Gary Franchi. "Supporters of honest elections called for this action, and we're beyond pleased to oblige."
Revolution PAC's "PollWatcher" initiative, announced last week, is essentially a means to crosscheck the accuracy of state GOP parties' vote totals, which have been problematic in several early primary and caucus states.
"Every American has a right and a duty to ensure the integrity of the voting process," adds Franchi. "Our proprietary PollWatcher app makes the process simple and transparent and the results immediately accessible."
The custom-coded Android app features access to a "reporter's toolbox," which provides one-click audio/video recording as well as the ability to post to Facebook or Twitter in real time.
Revolution PAC will broadcast its exit polling results in real time today as part of its "Boycott the Mainstream Media" initiative. Join the live stream at http://www.revolutionpac.com.
Revolution PAC is supporting U.S. Rep. Ron Paul's bid for the Republican presidential nomination and his consistent, constitutional message with targeted TV advertising, direct mail campaigns, vote-watching initiatives and innovative Web promotions complemented by billboards and radio ads in key primary states. Unlimited donations by individuals, businesses and organizations are being accepted by Revolution PAC to support that effort.
# # #