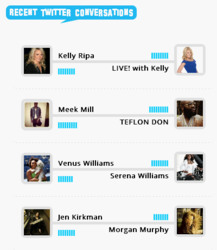 (PRWEB) February 28, 2012
Tweetwood launched a new feature that makes it easy for users to track and share Twitter conversations between celebrities. The feature enables users to find out who their favorite celebrity is talking to on Twitter. Keeping the motto of simplifying Twitter for Celebrity fans in mind, Tweetwood displays the Twitter conversations in a contemporary graphical chat style.
While Twitter has done a great job in showing user's tweets it lacks focus on two way conversations. It's a tough task to keep track of back-and-forth communication between users, particularly when you're not actually part of the discussion but still interested to know what's being tweeted. With Tweetwood, users can effortlessly track Twitter conversations.
The engine behind tweetwood conversations combines even the tweets that are not explicitly replied to by other celebrity but are supposed to be part of the conversation.
With Twitter, celebrities are able to speak out their minds and reach out to their fan base as well as other celebrities with a single click of mouse. Tweetwood presents you the unedited real time feed of Celebrity tweets. You can find the tweets that are not even present on Twitter anymore, the tweets that celebrity typed in a burst of emotion but deleted after realizing the gravity of it.
Tweetwood is the biggest celebrity portal based on Twitter. It has sub portals for US, UK, Cananda and Indian Celebrities on Twitter. With 3000 Twitter celebrities and counting, Tweetwood covers almost every celebrity present on Twitter. Loaded with tons of features, and new features rolling out every few weeks, Tweetwood is all set to become single stop portal for Twitter fans.
Manusis Technologies specializes in building scalable, interactive and social web sites and mobile applications. The applications developed by Manusis are cross browser, cross platform and uses the best coding practices and Extreme programming guidelines. Manusis is responsible for building the back-end from scratch for some of the big sites like Gdgt, Designbyhumans, AOC to name a few. The agile Manu framework and state of the art ManuCMS helps in rolling out big standards compliant sites quickly.
# # #