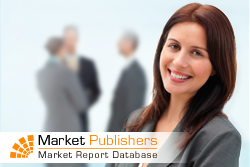 London, UK (PRWEB) February 28, 2012
Increasing research and commercialization in the field of life sciences such as proteomics, genomics, pharmacogenomics, and stem cell research have resulted in a boosting of high-throughput technologies such as the flow cytometry market. However, several constraints, such as increased equipment cost, are hindering the market growth.
The world hematology market is likely to grow over the forecast period, driven by the development in bench-top high throughput hematology analyzers and in high sensitivity point-of-care (POC) tests. Commercialization of innovative products is also likely to drive the future growth in the market. The US is the biggest market for hematology, contributing around 50% towards the global market share.
New research report "Future US Hematology and Flow Cytometry Market Outlook" prepared by Venture Planning Group has been recently published by Market Publishers Ltd.
Report Details:
Title: Future US Hematology and Flow Cytometry Market Outlook
Published: February, 2012
Pages: 275
Price: US$ 9,500
http://marketpublishers.com/report/medicine_pharmaceuticals_biotechnology/healthcare_equipment_services/future_us_hematology_n_flow_cytometry_market_outlook.html
The report delves into in-depth analysis of the US hematology and flow cytometry markets' future. Its scope comprises:

key economic, regulatory, demographic, social and technological trends expected to significantly impact the US hematology and flow cytometry market during the next decade;
five-and ten-year volume and sales forecasts for major hematology and flow cytometry tests;
annual placements and installed base estimates for major automated and semiautomated hematology analyzers and flow cytometers;
review of current instrumentation technologies and a feature comparison of over 60 analyzers;
five-and ten-year reagent and instrument sales forecasts;
sales and market shares of top reagent and instrument suppliers;
review of current and emerging technologies, and their potential market applications;
product development opportunities for instruments, consumables, and auxiliary products;
profiles of major current and emerging suppliers;
business opportunities and strategic recommendations for suppliers.
Report Contents:
I. Introduction
Ii. Worldwide Market and Technology Overview
A. Major Routine and Special Hematology Tests
1. Introduction
2. CBC Analysis
a. Hemoglobin Concentration
b. Hematocrit Determination
c. Red Blood Cell Count
d. Red Cell Indices
MCV
RDW
MCHC
CHCM
HDW
MCH
e. Red Cell Size Histograms
f. Platelets
Platelet Count
Platelet Size/MPV
PDW
Automated Systems
3. White Blood Cell Analysis
a. WBC Count
b. Five-Partial Differential
Siemens Advia
Beckman Coulter VCS
Sysmex X-Class
Abbott Cell-DYN Series
Pattern Recognition Systems
IRIS Diagnostics
Comparison of Major Differential Analyzers
4. Reticulocytes
5. Platelet Function Tests
6. Erythrocyte Sedimentation Rate
7. Red Cell Analysis
8. DPG
9. Red Cell Deformability
10. Neutrophil Function Tests
11. Semen Analysis
12. Bone Marrow Analysis
13. Urinalysis
B. Major Flow Cytometry Applications
1. Cell Surface Markers
a. Lymphocyte Subclassification CD4/CD8
Instrumentation and Reagent Test Kits
BD FACS Count
Beckman Coulter VCS
T Cells Diagnostics TRAx
b. Other Cell Markers
2. DNA Content Analysis
3. RNA Content Analysis
4. Chemotherapy Monitoring
5. Cell Cycle Analysis
6. Reticulocytes
...
More new reports by the publisher can be found at Venture Planning Group page.
# # #