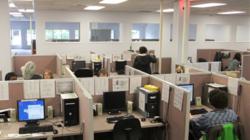 Our major reason for locating in Colorado is to better serve current and future customers in this area and open a bilingual telephone answering service and call center
Denver, Colorado (PRWEB) February 29, 2012
Sound Telecom, a leading provider of 24 hour Telephone Answering, Call Center and Unified Communication Services announced the opening of its first of three regional offices in Westminster, Colorado. The company, headquartered in Seattle, Washington, is opening regional sales and operations offices in the Mountain, Central and Eastern Time zones. It is currently completing its Denver-based Mountain States Regional office which will handle sales and a bilingual telephone answering service and call center.
"Our entire business is based upon professionally branding an organization's phone answering, supporting their incoming website traffic by phone, chat and email response and executing a variety of outbound calling campaigns through an outsource model that allows them to focus on their core competencies while drawing on Sound Telecom's 25 years of call center experience, processes, methodologies, equipment and staffing," says Michael LaBaw, President of Sound Telecom.
Sound Telecom's business plan calls for opening regional sales and operations offices in all US-based time zones. The Denver office opened on January 1, 2012, a Central office will be opened in 2013, followed by an office on the East coast in 2014. Sound Telecom has a solid customer base throughout the United States. The company is starting to decentralize its operations and sales bases by opening nationwide in order to be closer and more responsive to customers and prospects.
"Our major reason for locating in Colorado is to better serve current and future customers in this area and open a bilingual telephone answering service and call center," adds Michael LaBaw. "I grew up in this area and we are excited to be creating jobs in this area to serve businesses locally and nationwide from our bilingual call center. We are all about creating jobs in the Denver area, on USA soil. Our customers and surveys are telling us that the US consumer is tired with language and cultural barriers they experience with offshore call centers employed by many USA companies and they are concerned about confidential and personal data being shipped offshore-things like social security numbers and health and prescription data being handled by call centers in India, Philippines, Puerto Rico amongst others."
Sound Telecom chose the Denver area to open its newest regional office to support its large customer base in the area. Additionally, Denver is an ideal location for the company to open a bilingual call center. Denver Metro's Hispanic population is 32%, twice that of the national population percentage.
The company has sales staff and office management in place and is currently building an operations team. Sound Telecom expects to hire 10 to 15 fully bilingual employees in the next twelve to eighteen months.
Joining the Hispanic Chamber of Commerce of Metro Denver provided a great opportunity for the company to reach out to the local Hispanic community. The Hispanic Chamber of Commerce of Metro Denver is a membership driven organization comprised of small-business owners, corporate representatives, community leaders, and association members representing various professions. With over 2300 members, the Hispanic Chamber is the state's largest minority chamber, and one of the top four chambers of commerce in metro Denver. The Hispanic Chamber of Commerce supports the development and growth of member businesses through initiatives that encourage and promote business and economic development.
"Our purpose is to serve local communities by providing excellent call center support," says Brian Gabriel, Sound Telecom's COO. "We are proud to provide bilingual Spanish-English operator support to both English and Hispanic-owned businesses." Sound also provides live, real-time, operator-assisted, translation to clients who need to communicate with non-English speaking callers and offers translation services for over 220 languages. This translation service is particularly useful for businesses like medical offices that require translation for a variety of languages like Russian, French, German, and Chinese dialects for their patients.
Sound Telecom started as a local fully supported office suite and answering service in Issaquah Washington in 1986 and will be celebrating the completion of its 25th year in business at the end of March. From the very beginning excellent service at affordable prices has been its hallmark as it expanded locally, regionally and nationally.
About Sound Telecom
Sound Telecom is a leading provider of 24 hour Telephone Answering, Call Center and Unified Communication Services, headquartered in Seattle professionally serving thousands of customers throughout the United States and Canada with USA based agents. The twenty-five year old company has offices in Seattle and Spokane, Washington and Denver, Colorado. For more information, please visit http://www.sound-tele.com
Contact Information
Sound Telecom
Michael L. LaBaw, President
800-577-1550
mlabaw(at)sound-tele(dot)com
http://www.sound-tele.com
###