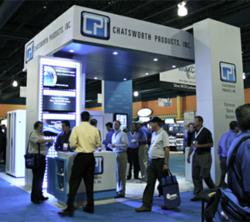 Westlake Village, California, US (PRWEB) February 28, 2012
Chatsworth Products, Inc. (CPI), a global manufacturer providing voice, data and security products, as well as service solutions that optimize, store and secure technology equipment, will showcase its latest innovations in Aisle Containment and intelligent Power Distribution Units (PDUs) during Data Center World in Las Vegas.
Held March 18-22 at the Mirage Hotel and Events Center in Las Vegas, Nevada, Data Center World is considered one of the most popular events in North America to see emerging technologies and products for the IT industry. Also named one of the 50 fastest growing tradeshows in the U.S., the popularity of this annual event continues to grow in step with the demand for increased data communications and cloud technology. Those inside the data center industry are well aware of the effects of this trend – increased heat loads from network servers and switches that lead to drastically increased costs.
CPI will fit into this equation at Data Center World with a display booth (#507) that exhibits a Hot Aisle Containment strategy using four of its glacier white F-Series TeraFrame® Cabinets and a sleek new self-closing door. Using containment solutions such as this, CPI has the ability to increase cooling efficiency by 3x, while broadening the air temperature envelope with 4x higher heat and power densities. CPI will also feature its new eConnect PDU product family. This latest development in intelligent PDU technology is designed with configurability in mind as each model offers a low profile that assists with cable management and airflow, and a temperature rating of 149F that positions data centers for the extreme heat loads found in hot aisle containment environments.
Firmly established as a thought leader in the IT industry, CPI has also been asked to present a lecture during Data Center World entitled "Economics of Data Center Airflow Containment." Conducted by Ian Seaton, CPI's Global Technology Marketing Manager, this session will illustrate containment benefits for supporting higher densities and reducing operational expenses with explanations on measuring and calculating those savings. Those unfamiliar with the merits and applications of air containment will also leave with an understanding of the three main containment strategies achieved through hot aisle, cold aisle and the Vertical Exhaust Duct. Seaton's presentation will be held at 1:15pm on Tuesday, March 20.
If you can't attend Data Center World, CPI offers seminars throughout the year with 10 dates spanning the U.S. and Canada in 2012. For more information on the Data Center Power and Cooling Efficiency Seminar and a complete list of dates, visit [http://www.chatsworth.com/data-center-seminar/.
Data Center World is presented by AFCOM, an industry-leading association of more than 4,500 worldwide data center management professionals, and a 30-year history providing comprehensive resources for the data center industry.
About Chatsworth Products, Inc.
Chatsworth Products, Inc. (CPI) is a global manufacturer providing voice, data and security products and service solutions that optimize, store and secure technology equipment. CPI Products offer innovation, configurability, quality and value with a breadth of integrated system components, covering virtually all physical layer needs. Unequalled customer service and technical support, as well as a global network of industry-leading distributors, assures customers that CPI is dedicated to delivering products and services designed to meet their needs. Headquartered in the US, CPI operates global offices within the US, Mexico, Canada, China, the Middle East and the United Kingdom. CPI's manufacturing facilities are located in the US, Asia and Europe.
CPI is listed with the General Services Administration (GSA) under Federal Supply Schedule IT 70. Products are also available through GSA Advantage and through Government Wide Acquisition Contracts (GWACs), including GSA Connections and NITAAC-ECS III. http://www.chatsworth.com/gov
Media Contact
Craig Ramey
Public Relations Specialist
Email: cramey(at)chatsworth(dot)com
Phone: (+1) 252-635-4264
More Information
Visit: http://www.chatsworth.com
Email: info(at)chatsworth(dot)com
Toll-Free: 800-834-4969
All products quoted are subject to availability based on manufacturing capacity and shipping dates should be considered estimates only. While every effort has been made to ensure the accuracy of all information, CPI does not accept liability for any errors or omissions and reserves the right to change information and descriptions of listed services and products.
2012 Chatsworth Products, Inc. All rights reserved. CPI, CPI Passive Cooling, MegaFrame, Saf-T-Grip, Seismic Frame, SlimFrame, TeraFrame, GlobalFrame, Cube-iT Plus, Evolution, OnTrac, QuadraRack and Velocity are federally registered trademarks of Chatsworth Products, Inc. eConnect and Simply Efficient are trademarks of Chatsworth Products, Inc. All other trademarks belong to their respective companies.
###