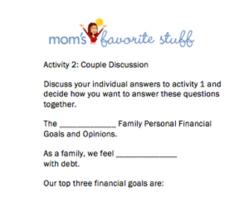 Natick, MA (PRWEB) February 29, 2012
Mom's Favorite Stuff, a popular Boston-area mom review blog, has recently introduced new family finance printables to help families get on the right track financially. Realizing that both parents need to be in sync with their finance plans, Mom's Favorite Stuff founder and former finance professional Jodi Grundig has decided to offer these printables free of charge.
The printables include two sections - individual worksheets that each spouse should complete separately, and then a family finance plan that the couple should work on together. Once the program is complete, families will have a plan that will include goals on how much to contribute to college, how they feel about debt, and when they plan to retire.
"With the day-to-day obligations in life, it's easy to forget to have a simple personal finance talk with your spouse. It's my hope that these printables will help families have these difficult conversations and allow them to create a successful family finance plan", said Jodi Grundig.
You can view the personal finance printables on Mom's Favorite Stuff.
About Jodi Grundig
Jodi Grundig is a sought-after travel writer, mom blogger, brand ambassador, and brand consultant. Jodi has been blogging since 2007 when she founded the popular mom review blog Mom's Favorite Stuff. With an Economics and Psychology degree and an MBA focused on finance, Jodi's passion is helping families save money.
###