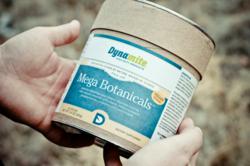 We included six organic sources of the most concentrated green foods.
Meridian, Idaho (PRWEB) February 29, 2012
Mega Botanicals, Dynamite's newest and totally innovative product, is not your average green drink. Built for the majority of Americans who are not getting enough greens and who are looking for a natural way to keep their energy levels up throughout the day, Mega Botanicals will be introduced in March by Dynamite Specialty Products.
Designed as a daily alkalizing and energizing drink, Mega Botanicals is the perfect way to start your day or as an afternoon pick-me-up. It contains not only 100 percent organic chlorophyll-rich "super greens," vegetables and sprouts, it also is packed with digestive enzymes, immune-enhancing mushrooms, herbs, probiotics and powerful antioxidants.
"This 'green drink' provides natural, caffeine-free energy as well as many long-lasting health benefits," said Callie Novak, CEO of Dynamite Specialty Products.
"The standard American diet consists of acidifying foods such as meat and heavily processed ingredients," Novak said. "If we can help people balance the effect of acid-causing foods by providing a convenient way to consume alkalizing greens, we believe it will impact their overall health and well-being."
As is usually the case, Dynamite decided against entering the "green drink" arena until they could create something unique. "When we created our product, we went so much further than simple green mixes," Novak said. "We discussed extensively which greens would make up the base of Mega Botanicals and rather than choose just one source as many companies do, we included six organic sources of the most concentrated green foods."
The vision of Mega Botanicals went much further than others on the market. It also contains digestive enzymes, which help break the product down into usable components. "Oftentimes people lack the digestive enzymes required to break down plant-based drinks and consequently they don't get the benefits of taking them. This is especially true as we get older," Novak said. "By adding the enzymes into the mix, we increase the drink's potential in the body."
Mega Botanicals also addresses detoxification, which is common when diet improvements occur. It contains ingredients to help organs of elimination to better handle detoxification, medicinal mushrooms that have been used extensively in Asia to help the immune system fight off potential illness and herbal ingredients to support heart and circulatory system health.
Mega Botanicals comes in powder form that is packaged in individually wrapped single-serving pouches. Cost is $63.50 for 25 pouches.
A family-owned business that has specialized in nutrition for four generations, Dynamite Marketing makes natural nutritional supplements for humans, dogs, cats, horses and virtually every member of the animal kingdom. It also makes all-natural dog food and horse feed. Dynamite's specialists can recommend exactly what vitamins, minerals, nutritional supplements and natural foods best support dogs with arthritis, horses with laminitis, cats whose owners make their own food, and cows with digestive issues.
All Dynamite products, including the new "green drink," use only ingredients made in the United States for better quality control.
Late last year the company introduced DM Plus, its "dream formula" for a vitamin and mineral supplement for humans.
Additional information is available on the Internet at dynamitemarketing.com or by calling (800) 697-7434.
###