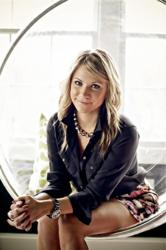 This is not like anything you have seen on HGTV before - Kevin Oakley
Pittsburgh, PA (PRWEB) February 28, 2012
Airing Saturday, March 3rd at 2:30PM EST on Homes & Garden Television (HGTV), the season premiere of Showhouse Showdown was filmed in Cranberry Township and features local designer Alisha Gwen competing against design veteran Joe Berkowitz in homes built by a Pittsburgh home builder.
Fans will have the opportunity to chat live with the designers while the show airs on Saturday, March 3rd. In addition to chatting with the designers, anyone who participates in the chat will be entered to win an iPad! Fans can get more information at http://www.HeartlandCustomHomes.com.
In each episode, two professional interior designers take over two newly built houses with mirror-image floor plans. Joe and Alisha will compete head-to-head by creating five signature rooms in each house using identical $130,000 budgets and on the same seven day schedule. Keeping the stakes high and the designers on track will be host Bob Guiney, from ABC's The Bachelor. In the end, there is an open house, and one designer will be crowned the winner based on the votes casted by the area residents.
"This is not like anything you have seen on HGTV before," said Kevin Oakley, Director of Marketing for the home builder Heartland Homes. "This is not just about picking paint colors and moving in furniture. These designers are involved with the house from day one of construction and have complete freedom to change whatever they want. Windows, walls, cabinets – it's all up for grabs."
The rooms range from a kid-friendly family play room to a mood-setting master bedroom retreat, and embody two very different creative visions. The episode is titled, "Pittsburgh, Pennsylvania Showdown: The Black Wall vs. The Play Room." Tune in to HGTV on Saturday, March 3rd to find out who will win, and to get some design inspiration.
Area residents will also get a chance to meet Bob and both designers at the Mystic Ridge model home Friday, March 9th at 1:30pm. The first 100 people in attendance will even have a chance to win $25,000! Doors will open at 12:30pm, and the re-broadcast of the episode will begin at 1:30pm.
Local media outlets will be able to interview Bob Guiney or the designers anytime on Thursday, March 8th, or during the morning of March 9th - as well as during the event.
###