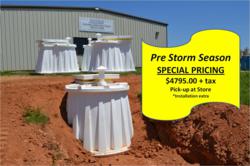 The Granger In-Ground Storm Shelter can be a life saver when dangerous weather hits during the up-coming tornado season.
Atlanta, GA (PRWEB) February 29, 2012
A great Atlanta construction supply company has an in-ground storm shelter, available to the general public, easy to install, maintenance free and will provide peace of mind for you and your family as you prepare for this year's upcoming storm season. The weather so far this year has been "unpredictable" to say the least and the dangerous storm and tornado season, which usually begins in March and continues throughout May, is rapidly approaching. In 2011, the Southeast experienced the fourth most deadly tornado season ever recorded in the United States and 2012 is starting out with a level of violent storms equal in intensity to those of 2011. Unfortunately, many victims of last year's storms were unable to find a secure shelter from the dangerous weather that left hundreds dead across the Southeast.
There were approximately 1,900 tornados reported in the United States in 2011. The aftermath of these storms was often complete devastation to families, homes, businesses and communities. Last year, an estimated 550 people perished as a result of these deadly tornados, which is almost equal to the 564 deaths caused by tornados over the previous ten years combined. The worst of the tornados in 2011 raged through Joplin, Missouri, Alabama and North Georgia. This storm alone killed a total of 369 people. In Georgia, the towns of Ringgold and Rome were hit hard by these violent storms. Harrison Construction Supply Company is committed to helping you prepare for this season's severe weather by providing a safe, secure, easy so install in-ground storm shelter - the Granger In-Ground Storm Shelter.
The Granger In-Ground Storm Shelter, or ISS, has excelled in both the FEMA 320 and FEMA 361 testing. It has also endured strenuous testing from the Texas Tech's Wind Science and Engineering Center to determine durability during the worst of tornados. The unique design and structure of this ISS is what makes it appealing as an option for storm shelters across the Southeast. The Granger In-Ground Storm Shelter is constructed of one thick piece of polyethylene wrapped around a durable frame, and then sealed. It comfortably holds 3-5 adults and has many creature comforts such as LED lights and a ventilation system. The polyethylene material will last hundreds of years and will not chip or mold like other in-ground shelters. Because of its simple one piece design, it is portable for shipping and easy to install.
"I want to get the word out about the Granger In-Ground Storm Shelter and how it can be a life saver when dangerous weather hits year-round and especially during the up-coming tornado season. I know we all remember the heartbreaking scenes and the complete devastation of entire communities caused from tornado outbreaks in 2011," says Jim Harrison, owner of Harrison Construction Supply. "Our team at Harrison Construction Supply specializes in concrete as well as other construction materials. We constantly get calls around this time of year to pour foundations for in-ground storm shelters. Concrete is a great material for foundations and homes, but it can cause problems when used to construct an unventilated storm shelter. I always recommend the Granger In-Ground Storm Shelter to my customers because they last for hundreds of years and they are maintenance free."
Harrison Construction Supply, located in North Georgia, provides complete delivery and installation for the Granger In-Ground Storm Shelter to the following states: Georgia, Alabama, North Carolina, South Carolina, Florida, and Tennessee. Harrison Construction Supply also provides equipment rental, AluForms and Elite brand concrete forms, construction materials and landscaping materials to contractors and individual consumers alike. They can be reached by phone at (706-253-9288) in Jasper, GA or (770-442-8130) at the Alpharetta, GA location. Web marketing and services provided by Atlanta SEO company, Interactive Search Marketing.
###