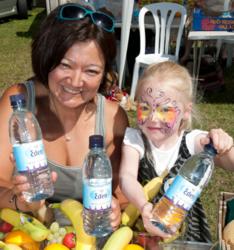 Whether you are going to run a marathon, sit in a bath of full of spiders or head for the top of Everest, Eden Springs would like to help you stay hydrated.
Edinburgh (PRWEB UK) 29 February 2012
Water dispenser company Eden Springs UK Ltd is offering 1,000 cases of bottled water to any needy fundraiser in the UK following a successful running of the initiative in 2011.
Individual charity fundraisers can apply for a case of 12 500ml bottles of Eden water to be delivered to your work address at absolutely no charge, ready to help raise money and awareness no matter what the event.
Eden also welcome water applications from organised events and group fundraising activities, and will consider donations on a case-by-case basis. The company supplied water to charity events in aid of The Children's Trust, Royal Blind and more in the first year of the initiative, helping to ensure their events were a success.
The company, the leading bottled water cooler and office beverage provider in the UK, have also developed their relationship with Macmillan Cancer Support and will be providing Macmillan Challenge Event participants with the water they need to get them through trials including the London Marathon. The money they help raise ensures cancer sufferers receive support every step of the way.
In addition Eden Springs will offer to donate £30 to each charity that generates an installation order for a water cooler by recommending Eden Water to a corporate or other supporter.
###