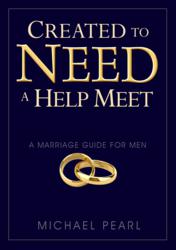 "You won't regret this gritty, witty, no-holds-barred excursion into relationships and marital bliss!"
Amazon Review
Pleasantville, TN (PRWEB) February 29, 2012
To celebrate this success the publisher has designed a special promotion around the book. An Amazon promotion from March 6-8 will feature over 50 special offers that can save readers thousands of dollars as well as Free eBooks and downloads on a wide variety of subjects all for just purchasing one book on Amazon on the promoted dates. The book is an Amazon Best Seller and NGJ expects the book's impact to only increase as it is discovered by more men.
Not one to shy away from controversy, author Michael Pearl takes on the issue of the husband's role in creating successful marriages. Declining divorce rates do not necessarily mean that marriages are getting better. A marriage should be more than just a two people "hanging in there." Created To Need a Help Meet addresses marriage from a man's perspective by a man with over 40 years of success in his marriage. Michael uses real life examples and authentic no-nonsense, down-to-earth language that speaks to men on a practical level.
Michael unlocks the mysterious code of making a wife truly happy. Every man needs a woman; a helper, best friend, encourager and certainly a passionate lover. Women are complicated; her complex needs will have to be met before she will desire to meet yours. A man needs an instruction manual to break the code of what might drive their wife to delight in pleasing him; now there is one. Michael delivers the truth straight up, no fluff, and with his unique brand of manly humor. Mike wants to know, can you handle the truth? Man Up!!!
With his appearances on NBC's Today Show, CNN's Anderson 360, Anderson Cooper's Daytime Talk Show and most recently on Dr. Drew's Lifechangers Show, Michael has brought much needed positive attention to the importance of proper parenting. As the author and producer of several books, videos and audios on child training including To Train Up a Child with over 670,000 in sales in 10 languages, Training Children to Be Strong in Spirit and Jumping Ship, Michael has become the media "go to guy" on controversy over the use of spanking in child training.
Michael and Debi Pearl are the founding directors of No Greater Joy Ministries (NGJ) a 501(c)(3) located in Pleasantville TN. Debi has written several books for women on marriage issues. These include Created To Be a Help Meet with sales over 370,000 books, and Preparing To Be a Help Meet which has the coveted "Amazon Best Seller" status out of over 20 million print titles.
Just as Debi's previous books reintroduced a fresh, down to earth perspective on the wife's role and responsibility in the marriage, Michael has done the same for husbands. Created To Be a Help Meet revolutionized the way wives approached their marriage. Now it is time for husbands to join the revolution and enjoy the benefits of marriage as it was meant to be.
###