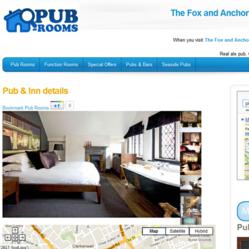 People are using Pub Rooms because it's easy to use and each pub on the guide provides a secure contact form direct to the pub or hotel.
(PRWEB) February 28, 2012
For the last 4 years Pub Rooms has been independently operated with assistance from AM Communications for internet marketing. Since migrating the website to a dedicated server and with a leaner marketing strategy for the UK pub guide it has continued to grow by providing visitors with quality information for pub offers including accommodation and room hire. The returning visitor ratio to new visitors has narrowed and this has been noticeably so from the search results for pubs in London.
People are using Pub Rooms because it's easy to use and each pub on the guide provides a secure contact form direct to the pub or hotel.
To be able to take the pub and accommodation guide to the next level and increase visitor expectations pub rooms has invested further in the technology behind the website front end so future versions will be mobile friendly.
With a new website design planned for 2012 and with more staff the pub website operators are expecting another busy year during 2012.
Despite nearly throwing the towel in when an offer was put on the table during 2011 the owner of the pub-rooms domain decided against selling. The 6 figure offer was good enough to sell but the website is not just about money, it's about providing internet users with a fast, easy to use pub finder and this is has a direct impact on booking enquiries for the pubs on the pub rooms guide.
Additional concerns in the last quarter of 2011 came when the internet was becoming a dumping ground for poor pub information websites. The pub guide sector being saturated with misleading website services had already tipped the point of dissatisfaction. It seemed that pub guides where springing up for the sake of it.
In 2010 Pub Rooms criticised the new use your local pub guide for offering a service online that many publicans had provided offline for decades. It wasn't so much an innovative idea but a successful marketing and PR campaign launched with the backing of the three Worlds largest drink producers. Whilst it was heralded by industry leaders and winning awards for marketing, it didn't reach out and help struggling pubs it was merely selling yet another subscription service . Pub closures are at the highest levels in a decade the last thing they need is another annual subscription for marketing a service they are already doing in the real World.
The message Pub Rooms was broadcasting to pub owners in 2008 was about ownership of marketing and taking their pub website presence seriously. Despite the message falling on deaf ears the industry has picked itself up and has a strong presence on the internet, people searching for pubs across the UK have a great choice and this makes the industry interesting to be in.
Any pub inn or hotel that wishes to be detailed on Pub Rooms should contact them directly where a free profile page will be setup so that enquiries can go directly to the front of house.
###