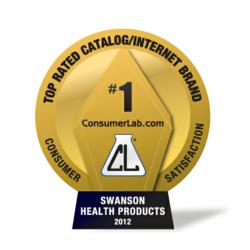 We're honored to be recognized as #1 in customer satisfaction among catalog and Internet brands in America
Fargo, ND (PRWEB) February 29, 2012
Swanson Health Products has been ranked the #1 Catalog/Internet Brand Based on Customer Satisfaction for 2012 by ConsumerLab.com. The rating is based on results of the 2012 ConsumerLab.com Vitamin & Supplement Users Survey. Over 10,000 vitamin and supplement customers responded to the annual survey. ConsumerLab.com is a provider of consumer information and independent evaluations of products that affect health and nutrition.
"We're honored to be recognized as #1 in customer satisfaction among catalog and Internet brands in America," says Swanson Health Products' President Lee Swanson. "It's truly humbling and the credit goes to our dedicated employees and partners, who are absolutely committed to producing the highest quality products while maintaining true value pricing for our customers."
The ConsumerLab.com survey found the Internet to be the most popular place to buy supplements—42.8 % of respondents reported using online stores. Other common outlets, used by 20% or more of the respondents, include warehouse clubs, mail order catalogs, supermarkets, pharmacies, and vitamin stores. For more information regarding the survey or the Swanson Health Products' #1 Rated Catalog/Internet Brand Based on Customer Satisfaction for 2012 Award, please visit: http://www.consumerlab.com.
Swanson Health Products is an industry leader in bringing vitamins directly to consumers at the lowest prices possible. Swanson Health Products, headquartered in Fargo, ND, offers the highest quality vitamins, supplements and natural health care products and is Good Manufacturing Practices certified. Swanson Health Products goes a step beyond its competitors by offering powerful guarantees. All products are backed by a 100% Satisfaction, Money-Back Guarantee. For more information, please visit http://www.swansonvitamins.com.
###