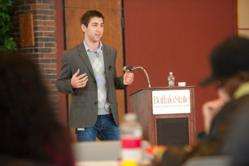 "This event is appropriate for...anyone interested in mental health awareness, strategies for recovery, and how to maintain healthy mental hygiene."
Chicopee, MA (PRWEB) February 28, 2012
Elms College will host Sean Campbell, a 22-year-old professional speaker and mental health advocate, at seven p.m. on March 5, 2012, in the Alumnae Library. Campbell will share his personal experiences in coping with mental health issues and trauma.
Campbell will speak from seven to eight p.m. Following his presentation, a diverse panel of mental health professionals and an Elms student will encourage questions and an audience discussion.
"This event is appropriate for students who have or are experiencing mental health challenges," says Diana Lewis, Ed.D., Elms College psychology faculty. "Social work, psychology, and nursing majors are also encouraged to attend, as is anyone interested in mental health awareness, strategies for recovery, and how to maintain healthy mental hygiene."
Campbell's presentation is hosted by the Elms College chapter of Active Minds, a national organization working to utilize the student voice to change the conversation about mental health on college campuses. The event is funded by a grant from the Western Massachusetts chapter of the American Foundation for Suicide Prevention, and Elms College Wellness Center also has contributed funding.
The presentation and panel discussion are free and open to the public, and no registration is required. For more information, contact Diana Lewis at lewisd(at)elms(dot)edu.
# # #