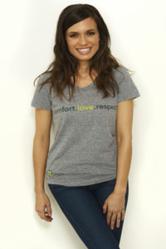 I have found such a light in being a part of hospice, one I would have never have thought I'd discover.
Alexandria, Va (PRWEB) February 29, 2012
As part of her role as the very first Hospice Ambassador for the National Hospice and Palliative Care Organization (NHPCO), Torrey DeVitto has designed a special t-shirt to celebrate the spirit of hospice and help raise awareness—especially among her young following who often are not familiar with this compassionate kind of end-of-life care.
The short-sleeve t-shirts feature the hospice message, "Comfort – Love – Respect" on the front. The message on the back is a reminder that "hospice is about how you live" and reflects Torrey's passion for hospice.
Torrey is an accomplished actor currently appearing in the CW hit-series, The Vampire Diaries, where she plays Dr. Meredith Fell, and on the ABC Family TV series, Pretty Little Liars, where she plays Melissa Hastings. She has co-starred in One Tree Hill, the series Beautiful People, and has been seen on shows such as Castle and CSI-Miami.
What many people are not aware of is Torrey's work as a hospice volunteer. For more than four years, she has been serving as a volunteer at Mission Hospice in Glendale, California.
Last year, Torrey began working with NHPCO to help raise awareness of hospice care among young people. NHPCO was honored to have her present the 2011 Volunteers are the Foundation of Hospice awards at its annual clinical team conference in San Diego. Soon after, NHPCO welcomed Torrey as its first Hospice Ambassador.
In talking about her work with hospice, DeVitto said, "I have found such a light in being a part of hospice, one I would have never have thought I'd discover. Being a volunteer helps me appreciate things in my own life so much more."
All proceeds from the sale of the t-shirt are going to the National Hospice Foundation in support of NHPCO's consumer engagement initiative, Caring Connections. NHPCO is the largest nonprofit leadership organization representing hospice and palliative care professionals in the US, and the National Hospice Foundation is its philanthropic affiliate. The t-shirts will be available for purchase from NHPCO's Marketplace, the organization's retail division.
"We thank Torrey for all she is doing to help increase understanding of hospice care," said J. Donald Schumacher, NHPCO president and CEO. "Not only is she raising awareness but she's designed a beautiful shirt!"
NHPCO and NHF look forward to welcoming Torrey to the 27th annual Management and Leadership Conference and the National Hospice Foundation's annual Gala on March 30, 2012 at the Gaylord National Harbor where the organizations will thank her for sharing her inspired vision in t-shirt form.
To order the t-shirt, visit NHPCO's Marketplace at http://www.nhpco.org/marketplace or call 1-800-646-6460. A downloadable order form is also available.
Learn more about hospice and Torrey DeVitto's work at http://www.CaringInfo.org/Torrey.
###