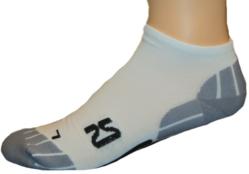 We spent a tremendous amount of time developing and engineering one of the most advanced thin running socks available
Miami, FL (PRWEB) February 29, 2012
Zensah®, the leading manufacturer of compression apparel, has released a new line of sport socks, featuring thin running socks. The socks have become an instant best seller, seeing rapid adoption among runners of all levels, particularly with minimalist runners.
The new thin running socks were developed based on extensive athlete research and customer feedback. Each sock features a wraparound compression band for arch support and enhanced circulation. The socks also contain extra padding in the toe and heel region for shock absorption and blister protection. The innovative light design provides runners with the comfort and features they seek in a running sock without feeling constrained. Barefoot and minimalist runners appreciate how the socks fit with popular minimalist shoes, allowing them to gain the adequate support in addition to the full benefits of their shoe.
For runners, a major concern is finding socks that are both light weight and that stay dry. Zensah® Thin Running Socks are made with a proprietary fabric, which is thermo-regulating and moisture wicking. The thin running socks contain an innovative mesh-top designed for ultra-breathability. The superior technology found in the socks ensures that they will feel great no matter how many miles you run in them. Zensah® Thin Running Socks are made in Italy of the highest quality fabric.
Ryan Oliver, Director of Marketing at Zensah®, says, "Our leg sleeves have experienced tremendous growth over the last few years. Customers have come to know and appreciate the superior quality and advance performance found in all Zensah® products and wanted a sock with these same traits. We spent a tremendous amount of time developing and engineering one of the most advanced thin running socks available."
Zensah® Thin Running Socks are available at athletic specialty stores throughout the United States and can be found online at http://www.zensah.com/thin-running-socks.html.
About Zensah®: Zensah®, based in Miami, is the originator of seamless compression technology used by runners, triathletes, cyclists, and other outdoor sports. Zensah® is the number one selling high end compression brand in the world. Zensah® offers compression apparel products for performance and recovery.
Ryan Oliver
ryan(at)zensah(dot)com
ZENSAH COMPRESSION APPAREL
(305) 935-4619
###