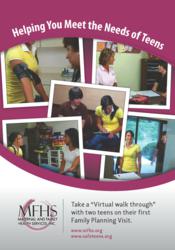 Wilkes-Barre, PA (PRWEB) February 29, 2012
Maternal & Family Health Services, Inc. (MFHS) announces the sale of its Safeteens Virtual Visit CD Toolkit on the MFHS website for health professionals, social service providers, health educators and parents. The Virtual Visit CD Toolkit allows teens to take a 'virtual walkthrough' with two teens on their first visit to a family planning health center. The kit also provides a variety of online resources for more information on teens and good sexual health.
The Safeteens Virtual Visit CD Toolkit provides valuable information on sexual health topics such as pregnancy and STD/STI prevention as teens enter prom season, graduation and summer vacation. While recent studies indicate that teen pregnancy rates are on the decline, three in ten young women will still get pregnant before the age of 20. Teen childbearing in the United States cost taxpayers (federal, state, and local) at least $10.9 billion in 2008, according to an updated analysis by The National Campaign to Prevent Teen and Unplanned Pregnancy. Providing accurate information and a safe space for discussion of these issues can help teens learn to make healthier choices.
Health professionals and teachers know it is important to provide students with a resource that educates them, but also makes them feel comfortable enough to want to learn more. MFHS understands that educating teens of the importance of good sexual health is a key factor in helping them make good decisions for their own health. The tour addresses one of the biggest issues that arise when discussing sexual health: fear or embarrassment about learning more. The Virtual Visit walks the student through a family planning session, answering many of their questions about their first visit. The video tour features young men and women as the main characters, providing the student with information they can better relate to and in turn, will consume more efficiently.
The Virtual Visit CD Toolkit can be purchased for $19.99 via the MFHS website using PayPal or by calling Maternal & Family Health Services at 1-800-367-6347. A downloadable order form is also available online. Additional resources for health educators and parents of teens are also available at SafeTeens.org.
Maternal and Family Health Services is a non-profit health and social service agency celebrating 40 years of service to Pennsylvania women, children and families. The agency oversees a network of health and nutrition centers in 16 Pennsylvania counties, serving over 125,000 people each year through the following programs: Women, Infants and Children (WIC) Nutrition Program; Family Planning Program; Healthy Beginnings Plus Prenatal Program; the Nurse-Family Partnership Program and the HealthyWoman Cancer Screening Program. For more information, visit http://www.mfhs.org, or call 1-800-367-6347.
###