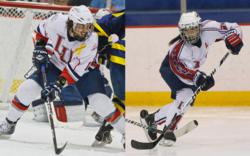 Lynchburg, Virginia (PRWEB) February 28, 2012
Liberty University's men's and women's Division I hockey teams will be headed to the American Collegiate Hockey Association national championships in March. The teams have both been named No. 5 seeds in their respective tournaments.
The men's team (23-8) is set to travel to Kent State University in Strongsville, Ohio, for the 2012 ACHA Men's Division I National Tournament March 2-7. After a first round bye, the Flames will face No. 12 Adrian on March 3 in Hoover Arena.
The team has posted huge wins against top schools this season, including last year's national champion, Davenport University, and this year's No. 1 seed, Penn State.
"Our goal since the beginning of the year was not to go into it as a high seed but to get into the tournament," said head coach Kirk Handy. "God has blessed our team this year. The guys have worked really hard, and He's blessed our efforts."
This will be the Flames' 11th time at the national tournament.
Handy credits the team's unity for a great portion of its success this season.
"I will say that we have grown a lot since the beginning of the year," Handy said. "I think the players that came in really meshed well with the older players we have on our team. I really give our seniors credit for the role that they've played in the development of our younger guys."
The Flames capped off their regular season with a sweep of Central Oklahoma at home on Feb. 17 and 18. In the first match-up, Liberty hosted its first Teddy Bear Toss, in which fans threw more than 400 bears on the ice after Liberty scored its first goal. The stuffed animals were donated to the Teddy Bear Brigade, a ministry of Gleaning for the World that hands out animals to children worldwide who have suffered abandonment, natural disaster, sickness, disease and war. (To see a video from the match, click here.)
For the Lady Flames, the young team has emerged as a team to beat in the 2012 ACHA National Tournament March 8-12 at the Alice Noble Ice Arena in Wooster, Ohio. The women's team has overcome many season injuries and a shallow bench to post huge wins against top teams, including defending champion Michigan State and No. 1 seed Robert Morris University.
Head coach Paul Bloomfield said the team is working to finish its season strong while recovering from injuries. Despite the fact that four women are in casts, they are still participating in dry-land practices to stay in shape for the tournament.
"We have four games between now and Nationals, and the girls that are injured will be limited play just so we can have them in good shape," Bloomfield said. "I think we've got as good a chance of going all the way as everybody."
This will be the team's third trip to the ACHA nationals.
Bloomfield said with the leadership of the upperclassmen, including senior and captain Stacey Christiaans, the team has "a really strong base to build on."
"We've got some quality ladies … not only as hockey players but good character," he said. "Although we are strong, we all need to build on the depth of next year. All the girls that are on the team this year have really come out and played a part."
To support Liberty's hockey teams, Flames fans can watch the live tournament webcasts online by registering for a FASTHockey account. The men's and women's Division 1 hockey teams are two of the 29 club sports programs offered at Liberty.
Liberty University's men's Division II and III hockey teams also fared well this season.
The Division III hockey team hosted and won the Blue Ridge Hockey Conference Tournament this weekend, coming back from deficits in multiple rounds.
Despite being down by as much as three goals, the Flames beat Radford University in the first round on Friday, winning 8-6. In Saturday's game, with five goals in the third period, the Flames took down William and Mary by a final score of 6-4. In the championship round on Sunday, Liberty won a close one over the University of North Carolina Charlotte, 4-3.
Forward Mark Lariviere, from Walled Lake, Mich., was named the tournament MVP. The junior posted four goals and three assists in the three-day tournament.
Division II hockey also had a successful weekend. Going into the Southeast Regional tournament ranked No. 5, the Flames took down Bowling Green State University 7-3 on Saturday. The Flames lost a close game to Virginia Tech, 5-3, on Sunday.
Liberty University, located in Lynchburg, Va., is the world's largest Christian university. More than 12,000 students attend classes on its 6,500-acre residential campus and more than 65,000 study in its thriving online education program.
###