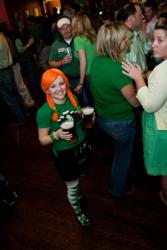 Philadelphia, PA (PRWEB) February 28, 2012
Fadó Irish Pub and Restaurant (1500 Locust Street, Philadelphia PA; 215-893-9700) is once again throwing the biggest St. Patrick's Day party in Philadelphia. With over a week of scheduled events planned including a huge outdoor street party called St Practice Day, Saturday, March 10 as well as the annual St Patrick's Day celebration on March 17. There is no bigger celebration at Fadó then St Patrick's Day. Details for all St. Patrick's Day events at Fadó in Philadelphia can be found at [fadoirishpub.com.
Kick Off March Events with the Flyers Faithful Pub Quiz Fundraiser - Monday, March 5th
Beginning at 8:00pm on Monday, March 5th, test your Flyers trivia knowledge and help raise money for the Ed Snider Youth Hockey Foundation (ESYHF). The cost is $10 per person. Half of the cover charge will be donated to ESYHF. The other half will be awarded to the winning team. The first 200 participants receive a free t- shirt designed by the Broadstreet Bootlegs. The winning team from each round will get a six pack of a limited edition, specially brewed beer called Lagr.
St. Practice Day Outdoor Street Festival - Saturday, March 10th
Fadó is kicking off a week of savage craic with the St. Practice Day Street Festival. From 10:00am - 7:00pm Locust Street will be closed between 15th and 16th for the biggest St. Practice Day party Center City has ever seen.
Doors open inside Fadó at 7:00am with a $5 cover charge. Beginning at 9:00am the cover charge is $10. Cover includes access to 6 Nations Rugby and events all day. Rugby starts at 9:30am with Wales vs Italy. At noon, it's Ireland vs Scotland. DJ spins your favorite Pub tunes until from 6:00pm - 2:00am! Minors are not permitted.
The outdoor festival kicks off at 11am and cover is $10 until closing. Enjoy live dancers from 3:00 - 4:00pm and Irish music with Blackthorn, Dead Poets and Lima Bean Riot. And of course Irish food, Guinness and Irish whiskey! Minors are not permitted. Advance tickets can be purchased here.
St. Patrick's Day Parade - Sunday, March 11th
On Sunday, March 11th it's the Philadelphia St. Patrick's Day Parade, kicking off at
16th & JFK Blvd
at noon. After the parade, round up your family and friends and head over to
Fadó Irish Pub and Restaurant for a traditional Irish lunch and a pint of Guinness! Six Nations Rugby continues with France vs England at 10:00am. The cover to watch the games is $20.
Irish Whiskey & Menu Tasting - Monday, March 12th
The party continues at Fadó with the Irish Whiskey & Menu Tasting on Monday, March 12th at 7:00pm. Fadó and one of Jameson's finest will pair great Irish whiskey with a perfect menu item! The cost is $30 per person (includes tax and gratuity). Seating is extremely limited. For reservations call 215-893-9700 or click here: https://www.fadoirishpub.com/eventorders/?event_id=25
St Patrick's Day Pub Quiz - Wednesday, March 14th
Great St Paddy's Day themed questions, prizes and giveaways all evening long. Featuring $3 Amstel Light pints just for you quizo masters! Prizes awarded to the smartest teams!
St. Baldrick's Fundraiser - Thursday, March 15th
Beginning at 4:00pm on Thursday, March 15th, shave your head and help find a cure for childhood cancer at the annual St. Baldrick's Charity Event at Fadó in Center City Philadelphia. Help shave the way to conquering childhood cancer by signing up as a shavee today. Staff, Friends of the pub and others will be shaving their heads to raise money and awareness for children's cancer research. Last year Fadó Philly raised $33,625. This year's goal is 35,000. For advance registration go to http://www.stbaldricks.org/events/mypage/5715/2012. Visit The St Baldrick's event page on Facebook https://www.facebook.com/events/223653511058872/. It will be Savage Craic at Fadó Irish pub in Philadelphia!
St. Patrick's Day & Super Saturday - Saturday, March 17th
What better a way to celebrate the festive holiday of St. Patrick's Day then at Fadó. Start the day with a pint, free pancakes and breakfast buffet from 7:00am - 10:00am, along with live music, traditional Irish dancers, pipers, and pints all day! 6 Nations Rugby starts at 7:30am and continues throughout the afternoon. DJ spins from 7:00pm to closing. The cover is $10 from 7:00am - to closing. Minors are not permitted.
6 Nations Rugby:
7:30am - Italy vs Scotland
9:45am - Wales vs France
1:00pm - England vs Ireland
About Fadó Irish Pub and Restaurant:
Fadó (pronounced fuh-doe) Irish Pub and Restaurant was was originally designed and built in Ireland and then shipped to Philadelphia. Fadó is distinguished by its genuine Irish hospitality, quality of its pints and craic (pronounced 'crack', a uniquely Irish form of fun). Fadó serves the highest quality pint of Guinness in all of Philadelphia. Their Guinness comes straight from St James Gate, Dublin, Ireland. Get more information here.
Fadó on Twitter
Follow Fadó on Twitter at twitter.com/fadophilly. Fadó is also using the Twitter hashtag #stpatricksday2012 to keep customers and their friends up to date.
Fadó on Facebook
Join the conversation at facebook.com/fadophilly.
Pictures of Irish food, drink and the pub are available upon request. Irish barmen and chefs are available for interviews, pouring and cooking demonstrations.
###