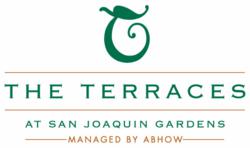 The new skilled nursing center will be the first of its kind in the state of California.
Fresno, Calif. (PRWEB) February 28, 2012
Continuing the transformation of The Terraces at San Joaquin Gardens, the Fresno senior living community is beginning its second phase of construction. Phase II of construction will include a new commons building, new residential living and health care accommodations, office space and underground parking. The entire transformation and community upgrades will cost approximately $120 million. A special groundbreaking ceremony will be held at The Terraces on Thursday, March 8 at 2 p.m.
A new commons building will serve as the main hub of the community with a café, fine dining restaurant, sports grill and fine arts center. It will also house an auditorium for symphony and theater events, and the community's administrative offices.
"The new commons area will have a lot of the community's amenities and services, and will be a comfortable and welcoming place for residents to gather for social, educational and cultural events," said Jessica Lopez, executive director of The Terraces at San Joaquin Gardens. "It's going to be the heart and soul of the community, and residents are already excited about all the possibilities the new spaces will offer."
Brand-new healthcare accommodations and a residential living building will be constructed adjacent to the commons area. The first building will include The Grove, the community's dedicated Alzheimer's and memory care center, featuring 24 private rooms. Next will be the addition of a unique skilled nursing center, including 54 skilled nursing suites.
"The new skilled nursing center will be the first of its kind in the state of California," said Lopez. "It's a new concept in which the building is designed in three different pods and rooms are situated around a central gathering point. It's thoughtfully designed to provide a warmer, homelike environment for those needing additional care."
In addition, a new residential living building, called the Milano, will provide 86 new maintenance-free apartment homes for area seniors on top of a new underground parking structure. The Terraces' planners designed the three-story below-grade garage to maintain the green space and garden areas of the community.
Once completed, renovations will be then be made to the existing buildings, transforming them into newly-designed assisted living residences.
Phase I construction featured 47 new residential living apartment homes, a pool, fitness center and spa, bistro and interior and exterior renovations on existing garden homes.
"There will be nothing like this transformation in Fresno or the San Joaquin Valley," said Lopez. "The biggest challenge has been executing a large-scale transformation in a living, breathing community. Our top priority is to our residents, and we've gone to great lengths to maintain all the quality of services and activities they've come to expect."
The Terraces at San Joaquin Gardens is committed to enriching the lives of older adults. For more than 40 years, the community, located at 5555 North Fresno Street, has delivered one of the most engaging lifestyles in the area. In addition to residential living, the community offers residents access to a full continuum of on-site assisted living, memory support and skilled nursing. For more information about The Terraces at San Joaquin Gardens, call (559) 435-1999 or visit http://www.TheTerracesAtSanJoaquin.com.
The Terraces at San Joaquin Gardens in Fresno, California, is managed by ABHOW, a California nonprofit public benefit corporation. ABHOW is a nonsectarian corporation, serving seniors through quality retirement housing since 1949. A licensing application for Phase II was approved by the Department of Social Services of the State of California. State of California License #100400544, #040000142. Certificate of Authority #102.
###