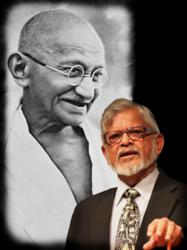 I believe we must now move beyond symbolism to doing something constructive and meaningful if we really want to build peace in the world.

Salt Lake City, Ut (PRWEB) February 29, 2012
Arun Gandhi, the grandson of peacemaker and spiritual leader, Mohandas K. Gandhi—also known as Mahatma Gandhi—visits Salt Lake Community College (SLCC) as part of National Interfaith Month on February 29, 2012.
Gandhi will be speaking at the College's Taylorsville Redwood Campus in the Markosian Library on the Second Floor at 12:00p.m. He will discus the belief of Nonviolence and how that can relate to greater interfaith dialogue. This lecture is presented in conjunction with the Salt Lake Interfaith Roundtable.
Arun Gandhi has been involved in projects for economic and social reform in India, as well as America. He and his late wife, Sunanda, founded the M.K. Gandhi Institute for Nonviolence. The institute's mission is to educate and promote nonviolence to help us achieve a sustainable and just world. Arun has also traveled across the global to such places as Brazil, Croatia, France, Ireland, the United Kingdom and Nicaragua, to share his unique perspective on one of history's most influential leaders.
This event has been made possible by the sponsorship of SLCC's Speakers Bureau, the Salt Lake Interfaith Roundtable, and the Salt Lake City Public Library. The Speakers Bureau is a new component of SLCC that seeks to bring nationally acclaimed speakers to the college to expand the student experience and invite the greater community to enjoy these speakers and what they bring to Salt Lake valley.
About the College: Salt Lake Community College is an accredited, student-focused, urban college meeting the diverse needs of the Salt Lake community. Educating and training more than 62,000 people each year, the College is the largest institution of higher education in Utah. The College has 13 sites, an eCampus, and nearly 1,000 continuing education sites located throughout the Salt Lake valley. Courses are offered during both traditional and accelerated semesters, during the daytime, evenings, and weekends. Personal attention from an excellent faculty is paramount at the College, which maintains a student-to-teacher ratio of less than 20 to 1.
###