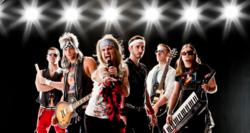 People just can't seem to get enough of the 80's, from tribute bands to requested DJ set-lists, even party decorations and favors.
Springfield, MO (PRWEB) February 29, 2012
There was a time when everyone had big hair, wore bright colors, and spent hours contemplating the correct way to twist a plastic, colorful block to make it all match up. If you immediately think "80s" you are correct. But according to entertainment booking company The Gig Bureau, you're also off by three decades. Love them or hate them, the styles and sounds of the 80s have consistently shown staying power for all the right reasons. Like a wave that never fully breaks, the crest of the 1980s still rides high today.
And nowhere is this tide more prevalent than in entertainment.
"We've seen requests for 80s-themed party entertainment increasing significantly over time," says Mark Steiner, co-founder of Gig Salad and Book the Best. "People just can't seem to get enough of the 80s, from tribute bands to requested DJ set-lists, even party decorations and favors." Gig Salad is the place to book local and regional entertainment for events nationwide and throughout Canada, while Book the Best is the celebrity booking agency of parent company, The Gig Bureau.
Although there is no single event that seems responsible for "bringing back the 80s" again, Steiner suggests that social media and the internet are driving forces behind the most recent rebirth.
"Facebook and Twitter have allowed hundreds of millions of people to share their everyday lives with each other across the globe, and they are also helping connect people with friends they may not have seen since high school. I graduated in 1984, the best year ever, and hadn't even thought about looking up old friends until recently. Now those of us who came of age during the best part of the 80s are finding each other again, reminiscing about it all. 20 years ago we would have met up at a retro arcade and played Ms. Pac-Man, now we just take to the internet and get our vintage fix."
One group of talented musicians is riding this retro trend across the Midwest, carrying a growing fan base and a love for the bodacious hits from the decade that of Zelda and big hair. Members Only, a cover band based in Springfield, MO, is tearing up the tour circuit with shows all across the region and beyond, bringing the biggest hits from the boldest generation back to the best stages. For the musicians in Members Only, it's not just a gimmick. According to Sam Adkins, bass player for the group, "We're all children of the 80s, and while we've got plenty of respect for current bands, the music that came out of the 80s will always be awesome. There were huge arena rock songs and there were emotional power ballads, and it doesn't matter if our fans in the crowd are 19 or 59, they know all the songs, and in most cases they're singing right along with us."
Steiner also credits television for a good portion of the 80s revivalism. "With shows like 'Glee' paying tribute to various 80s musicians from Michael Jackson to Journey, and Madonna taking over the Super Bowl, these amazing 1980s acts and trends are being pushed back into the public consciousness."
But 80s retro isn't just for the 30- and 40-somethings crowd, as a whole new generation discovers the entertainment potential of arena rock music and emotional power ballads, excessive hairstyles, and copious amounts of neon. "We have been getting requests at Gig Salad for 80s-themed entertainers, and we've seen a huge increase at Book the Best, our celebrity booking agency, for the great 80's bands that are still performing at events around the world," says Steiner. "With Members Only being based in our great city of Springfield, MO, it's pretty outstanding to be able to book one of the biggest 80's tribute bands for private and corporate events."
As many trends come and go at the drop of a hat or the launch of a new social network, Steiner is confident that the 80s will stick around for years to come. "Sure, we've had other revivals, from a new hippie movement to a minor rebirth of 90s grunge and even the swing revival from the late 90s, but the 80s are always popping back up, year after year. And I couldn't possibly be happier about it."
About The Gig Bureau
The Gig Bureau is the parent company of Book the Best, the celebrity booking agency, with offices in Springfield, MO and Wilmington, NC. They have worked with corporate clients ranging from Acura to Saks Fifth Avenue, and have booked all types of entertainment including Mythbusters, Kellie Pickler and The Flying Wallendas. In addition to celebrity bookings and talent management, The Gig Bureau operates GigSalad.com, the place to book more than 20,000 local and regional entertainers throughout the US and Canada. They can be reached at 866-768-GIGS and at gigbureau.com.
###