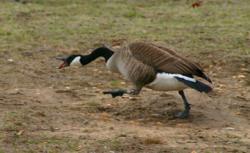 Not-So-Fun Fact: Each Canada goose produces at least a pound of droppings per day!
Chicago, IL (PRWEB) February 29, 2012
This month, migrant and resident Canada Geese are settling in for their annual nesting season. During this time, they will choose their territory and young adults will select their lifetime mates. Once they have established their nesting grounds and begin laying eggs, Canada Geese become extremely difficult to remove and problematic for homeowners and business owners. If the geese have used the property in previous years, the challenge is even greater.
Pest goose infestation can result in serious property damage, health hazards and liability caused by dropping messes, as well as a general nuisance for residents, neighbors, and workers. Geese are especially territorial this time of year and are likely to display aggression toward anyone that gets too close to their nests. Goose attacks can result in physical injuries, falls, sprains, broken bones, head trauma, emotional distress and more.
Not-So-Fun Fact: Each Canada goose produces at least a pound of droppings per day!
Steps can be taken right now to prevent pest goose infestation before nesting season is in full swing:
1) Create an inhospitable environment by making landscape alterations. Allow grass around ponds and other water sources to grow long, restricting convenient access. Plant trees and bushes to eliminate large open areas, making pest geese fear that predators may be hiding nearby.
2) Use an alarm-call repeller such as the GooseBuster to unleash an audio attack on pest geese. The GooseBuster is a one-of-a-kind device that uses the naturally recorded "alert" and "alarm" calls of the Canada goose. "Alert" calls indicate uneasiness or concern about potential danger, while "Alarm" calls are warnings of immediate danger requiring evacuation. These distinct communication signals are recognized instantly by Canada geese, causing them to flee the area and discouraging them from returning.
3) Visual scares are extremely effective at repelling pest birds. Turn on spotlights or strobe lights at night to harass the geese. Install predator decoys on the property, such as a coyote replica for lawns or a floating gator head in ponds.
4) Apply taste aversions to grass where the geese are nesting. A biodegradable food-grade repellent liquid, like Bird Stop, makes treated foliage taste terrible to geese, eliminating their food source.
Bird-X recommends goose-proofing your property before nesting season so that geese learn to take up residence elsewhere. If geese have already nested on your property this year, be prepared to move them in late May – after their eggs have hatched and when molting season is about to begin. Try combining the GooseBuster alarm-call repeller with other efforts for maximum results. The GooseBuster was developed using scientific research and field study and is the most comprehensive goose repeller in the world.
Courtesy of Bird-X, Inc. with technical information from Dr. Philip Whitford – Emeritus Professor, Capital University. Dr. Whitford has a PhD in biological sciences, specializing in animal behavior. He also has BS and MS degrees in wildlife management. The findings from his extensive studies of the Canada goose have been presented in over 100 publications.
About Bird-X
Bird-X is the leader in producing humane pest and bird repellent products, since 1964. We offer the most comprehensive line of bird control products that are humane, non-toxic and eco-friendly. Our bird deterrents range from state-of-the-art laser technology to sonic/ultrasonic bird control, goose and pigeon repellents, bird netting, bird spikes, visual scares, and animal sound repellers.
###