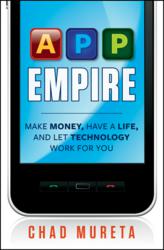 Hoboken, NJ (PRWEB) February 29, 2012
At SXSW 2012, Chad Mureta, author of App Empire shares his experiences of becoming an Appreneur.
Chad Mureta, a 30-year old entrepreneur, who once owned companies in real estate and media, found himself emotionally and physically trapped after a devastating car accident in January 2009. During that time, Chad realized that his real estate business was not only consuming his life, but no way connected to his passions.
Struggling to find the right fit, a close friend visiting Chad suggested he look into the iPhone app market, an industry he knew very little. While never considering himself to be tech-savvy, it turned out to be the booming iPhone app market that gave him the motivation to pursue the industry.
Confined to his hospital bed with an $1,800 loan from his step-dad, Mureta was determined. He ended up making 140k with his first app, "Fingerprint Security – Pro" that went on to be a best-seller in the App Store and serve as the catalyst for a new company, career, and way of life.
Chad's successes lead him to build his very own app business, as the founder and CEO of Empire Apps and co-founder of T3 Apps and Best Apps, three mobile application businesses that he created with no background in technology.
Chad realized that through mobile apps, he could create a system that worked while he didn't. Now almost three years later, he has spearheaded the development and marketing of 46 apps, which have been downloaded over 35 million times worldwide.
While Chad loves the exciting nature of the app business, his true passion is living a life free from the 9-to-5 grind. By letting technology work for him, Chad has been living his bucket list: traveling the world, learning salsa, becoming a certified scuba diver and skydiver, and his list continues to grow every year. Chad uses the app business as a means to work less and truly "have a life."
At SXSW, Chad will share secret tips on becoming an appreneur, his personal experiences and launch the publication of his first book, App Empire: Make Money, Have a Life, and Let Technology Work for You (Wiley; March 2012).
App Empire Session details:
Tuesday, March 13th 10 am – 10:20 am, Austin Convention Center – Ballroom G
Follow #sxsw #makemoney
To schedule an interview with Chad Mureta contact:
Heather Condon, Publicist - WILEY hcondon(at)wiley(dot)com - 201-748-6017
###