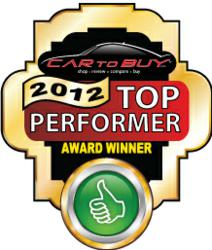 Families and buyers on a budget will drive new car sales in 2012. Attracted to a large selection of fuel efficient cars, better safety features and better quality in the low end models, buyers will open their wallets this year.
Tempe, AZ (PRWEB) February 29, 2012
Mark Baldwin, Publisher of the new car review site, Car To Buy, predicts that new car sales for the 2012 models will outsell the 2011 models due to the increase in selection of fuel efficient autos, the improvement in vehicle safety, and the boost in quality seen in the 2012 models.
Car To Buy reviews and rates each model based on fuel efficiency, depreciation value, consumer recommendations, IIHS safety ratings, perceived quality, internet popularity, and actual sales volume. Car To Buy Top Performer Awards are given to the models with the highest scores in each category. Consumers can compare all the new models in each manufacturer category to see how the automobile they are shopping for compares against similar cars that are available and how the model rated against the Top Performers.
One of the hottest searches on the Car To Buy website is for the Fuel Efficient models. An astonishing 52 different models compete in this category with 39 earning Top Performer Awards for their high scores. It might surprise Toyota, an innovator in fuel efficiency, to see the Ford Fusion in the top two positions, followed by two Hyundai models in positions 3 and 4, with their own Toyota Prius further down the list in position 11.
Baldwin says that the quality of fuel efficient vehicles has improved drastically in the past few years. Now with the growth of selection, consumers need to consider other factors than just MPG when they are shopping for a fuel efficient automobile. Safety, quality, luxury and depreciation have become major buying criteria - even on the Green side of the auto market.
With the explosion of Fuel efficient vehicles on the market, lower prices have made these vehicles more available to buyers on a budget. Several of the high MPG vehicles are available with a base price of around $15,000 even for autos that make sense for a family. Families will be the consumers that make the difference in this marketplace.
Families are also a major force in the drive to improve vehicle safety, forcing features that protect their children to be updated and required in new vehicles. More standard airbags, easy child car seat hookups, and sturdier construction make a difference to parents who have shied away from new car purchases in recent years. Adding entertainment features to keep the backseat happy, may not technically qualify as a safety feature, but any parent who has traveled across country knows that keeping the kids happy and occupied is important.
A more subtle difference this year is the manufacturers' improvement to the quality of their new models. The major manufacturer's typically only revamp or redesign a small percentage of their annual lineup. In 2012, many of the manufacturers chose their low end models, or Small Cars, for a redesign. Chevy Cruze and new Sonic, Ford Flex and Focus, Honda Fit and Insight, Hyundai Accent, Kia Soul and Toyota Corolla all were refit for 2012. In most cases, the fittings and finishes were updated and improved along with safety features.
Upgrades to the vehicles on the lower end of the market highlight auto makers determination to attract first time car buyers and buyers who are on a budget into purchasing a new auto in 2012. Mark Baldwin, Publisher of Car To Buy, believes that their strategy will work. Car To Buy can be found at http://www.cartobuy.com.
###