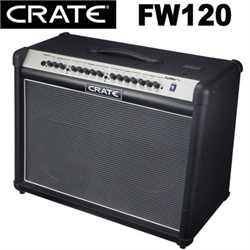 Crate's FlexWave Series reinvents the old-school solid state amp
Canoga Park, CA (PRWEB) February 29, 2012
Growing on-line speaker store OnlyFactoryDirect.com continues explosive growth adding new product lines, including well known Crate brand amplifiers. Crate originally established in the 1970's by Gene Kornblum, CEO of St.Louis Music, has a rich history in building guitar amplifiers. Crate is used by well known rock musicians like ZZ Top and Sammy Hagar. Although, Crate is mainly known for their classic tube guitar V-Series, they of late have been focused on developing new technology like the Evolution5 preamp housed in their latest FlexWave Series.
Crate's FlexWave Series reinvents the old-school solid state amp as a modern, fire-breathing tone monster capable of producing the saturated overdrive today's guitarists demand. Sequential Cascading Gain™ technology provides rich, articulate tone and playability, assisted by Channel Tracking that effectively remembers your effects settings when you switch between channels. The new FlexWave Series amplifiers are capable of producing a wide array of sounds from pure cleans to white-knuckle distortion, FlexWave proves there is no better value around.
The FlexWave Series incudes:
FW15: A 15w amp with an 8" woofer light weight closed back cabinet sells for only $99.99.
FW15R: A 15w two channel amp with 12" woofer and Mp3/CD jack in closed back cabinet $99.99.
FW65: A 65w 3-channel amplifier with 12" woofer, DSP with separate controls for effects, including delay, reverb and built in tuner $299.99
Perhaps the most notable in the FlexWave Series is the FW120 which has received a lot of press. The FlexWave FW120 2x12 Combo Amp is equipped with 3-channels Clean, Overdrive, and Hi-Gain. The clean channel offers clear warm sound far superior to other named brand more expensive amps. The second channel is an overdrive which is good for punk and classic rock. Finally the Hi-Gain that takes your overdrive and boosts it with crazy amounts of gain and is perfect for modern metal. The included foot-switch allows you to apply each of the effects to the various channels and turned on and off. Use the free channel switching pedal with no delay in switching channels and the effects work harmoniously between the effects and channels. The Crate FW120 120 watt amp also includes several effect including delay, Phaser, Chorus, Flanger, and Reverb.
OnlyFactoryDirect.com launched in 2007 offering speakers at factory direct prices, cutting out the middle man and committed to offering excellent customer service and free shipping anywhere in the continental United States. OnlyFactoryDirect.com carries a full line of professional audio speakers and pro audio equipment and is an Authorized Crate Dealer.
###