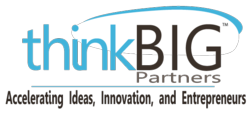 Kansas City, MO (PRWEB) February 29, 2012
Think Big Partners has invited a number of Midwest startup companies to participate in what has become known as the Flyover Field Trip. The Flyover Field Trip is a Think Big initiative that connects entrepreneurs to investors from tech and startup hubs such as Silicon Valley, Boston and New York. The event is a highly-intensive, three-day pitchfest for Midwest startups hoping to get their businesses on the map.
"In this highly-connected digital global economy, the Flyover Field Trip will bridge the gap between good ideas and funding sources," said co-founder of Think Big Partners, Herb Sih. "Instead of launching a startup company and hoping investors show up on Demo Day, we are taking a Midwestern-based, common sense approach to the situation."
In order to prepare the selected startups for the Flyover Field Trip, Think Big Partners is hosting a three-day Pitch Camp this week at its coworking space, bizperc. Through peer dynamics, the PRISM process, question-and-answer sessions and intense pitch coaching, Pitch Camp will groom and perfect eight to ten different decks and pitches for the Flyover Field Trip at the end of March.
"Why should only good ideas from Silicon Valley, Boston and New York get the funding attention?" asked co-founder of Think Big Partners, Tyler Prochnow. "Great ideas come from every part of the country, including the flyover states."
"The Midwest offers some great things that are very important to entrepreneurs," said Sih. "We have a great quality of life, reasonable living costs, a collaborative mindset, combined with Midwestern sensibility. Not to mention, we have strong work ethic."
Think Big Partners' first Flyover Field Trip will take place March 21-23, 2012, in Menlo Park, San Francisco, Mountain View and Palo Alto, California. On the Flyover Field Trip, a group of Midwest startups selected by Think Big Partners and Silicon Valley Bank will attend the Silicon Valley Seed Showcase, a briefing on WebFWD and Mozilla Ignite programs, the Think Big Showcase and much more. To learn more about the Flyover Field Trip, please visit the Think Big Partners website.
About Think Big Partners
Think Big Partners is an early-stage startup accelerator and mentorship-based collaborative network located in Kansas City, Missouri. Think Big Partners has successfully advised, launched or grown over 100 successful companies with its creation of coworking spaces, entrepreneurial conferences, essential services, startup resources and funding. To learn more about Think Big Partners, please visit http://www.thinkbigpartners.com.
###