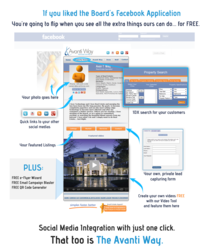 Because Real Estate Professionals need to be educated that they are, first and foremost, Entrepreneurs.
Miami, FL (PRWEB) February 28, 2012
Andres Korda and Enrique Teran, co-founders of Avanti Way Realty, have an ambitious goal: to change the face of the real estate industry, and their weapon of choice is Technology. Empowering Real Estate Professionals to become more efficient and better entrepreneurs is their goal and the reasoning behind the recent launch of their own Facebook Application. The App is part of a much larger Marketing Toolbox and creates a smooth Social Media integration between Facebook and AVEX- their patent-pending, completely virtual and paperless system that allows their agents to access everything from contracts, transactions, listings and leads from anywhere in the world, along with a set of organizational and communication tools that include a document cloud and even an international web phone.
Their new Facebook App is easily installed and then updated right through AVEX, including the agent's profile picture and description, their featured listings, videos to showcase, as well as their contact info and links to their other social media sites. Buyers can also perform property searches through the App or search through the wealth of information available about the city.
But the idea of empowering agents isn't just limited to their own, in celebration of the recent Social Media Week, Avanti Way held a hands-on Social Media Workshop open to all Miami Real Estate Professionals with the aim of setting up their social media strategy in just one night; the event was so popular that it was completely booked a few days in advance with several agents on waiting lists.
Instead of creating a huge hype and bombarding agents with all the bells and whistles of their new Facebook Application at the event, Andres Korda, Co-Founder and Managing Director of Avanti Way, took the time to explain a great wealth of Social Media tips and strategies that are best suited for agents, including how to set up other Facebook Apps before even showing the Avanti Way's proprietary application. Of course, the ease of the Avanti Facebook App through AVEX was made clear by simple comparison. Attendees also received a clickable copy of the presentation, as well as the e-book "The 7 Best Social Media Tips for the Busy Real Estate Professional", by G.R. de los Reyes.
"We believe 100% that the most efficient way to create a Real Estate Business is through the use of technology and we love to share that with everyone, not just our agents." Explained Enrique Teran, Co-Founder and Managing Director of Avanti Way, "Because Real Estate Professionals need to be educated that they are, first and foremost, Entrepreneurs: they need a business plan, a strategy of action, a marketing budget, because simply getting your license doesn't guarantee success."
"Right now Social Media is playing a huge part in how buyers and sellers find their next agent," adds Korda, "so it was important for us to educate every agent who attended the workshop in the best ways to use these new tools and how to incorporate them as part of an effective business' marketing strategy."
In line with their goal of creating successful real estate entrepreneurs, the Miami real estate firm began providing an affordable health insurance option to their agents in January 2012 and started incorporating goal tracking into AVEX, which takes the income goals inputted into the system's business plan module and actually tracks how each agent is progressing based on the number of leads added and transactions closed.
Social Media Week is owned and operated by Crowdcentric Media LLC and holds events in 21 cities around the globe. For more information about Avanti Way Realty, please visit http://www.avantiway.com or their agent site: http://www.joinvantiway.com.
If you would like more information about this topic, or to schedule an interview with Gloria Rodriguez de los Reyes, please call 305-229-1146 or email at gloria(at)avantiway(dot)com.
###