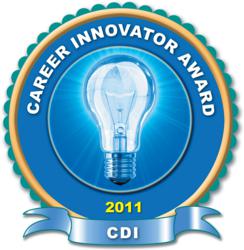 "Judges will select from groundbreaking employment websites, job seeker tools and apps, e-books, educational games, assessments, and training programs that represent world-class milestones in the career services, employment, and career management fields."
Melbourne, Florida (PRWEB) February 29, 2012
As a global professional association, Career Directors International (CDI) has upheld its mission to encourage excellence and innovation amongst its global membership who represent the career industry's leaders in resume writing, career coaching and counseling, career management, recruiting, job development, human resources, and employment websites.
This has consistently been accomplished through development of top educational and mentorship programs, surveys and reports of major industry changes and critical trends, the annual TORI Award resume writing competition, and development of new resources for both career professionals and job seekers. Efforts such as these led to trend reviews in SHRM's member newsletter and selection by the Department of Labor as one of the top 50 job seeker tools on the Internet in the Job Tool Challenge.
But something was still missing.
While members were able to show their focus on quality and excellence with their job seeking clients and through CDI's TORI resume competition, there was no clear channel for encouraging these dynamic professionals to cultivate their own industry innovations in career services. Change agents did begin making themselves visible early on such as the groundbreaking development of Resume Critique Writer in 2002 by Grant Cooper of Strategic Resumes in New Orleans. It was new tools like this one which would spark CDI to consider how to cultivate this kind of innovation in the careers industry.
By 2008, this spark was accompanied by a Web 2.0 world rich with readily available access to cost-effective technologies which would afford career professionals with the tools to translate their ideas and expertise into a wide array of new media including websites, blogs, apps, e-books, self-published books, career assessments, training programs, educational games, infographics, and other platforms yet to emerge.
So it was that CDI introduced the Career Innovator Award competition with the first nominations and winners selected by a panel of diverse industry judges in 2009. In 2010 and 2011, former winners were put at the helm of selecting the nominations in order to give those most aligned with innovation the opportunity to identify and celebrate it in their peers.
Since the competition's launch, CDI has been proud to recognize innovations ranging from career management/job search apps and interactive resume development tools to university-development dual career programs, social search strategy books, employment information and job seeker support websites, job search how-to programs, and much more.
The 2012 competition is now open and eagerly looking forward to a host of exciting new industry innovations brought forth for consideration in the annual judging. This year, the competition closes on Friday, June 29th. Career professionals and employment website developers are encouraged to visit CDI's career and resume competition pages and learn more about the Career Innovator competition and other award programs hosted by CDI. From this page both nominees and winners of the competition can be viewed for the prior three years of the competition.
Job seekers can also learn more about how to select a career services provider; access job search and resume writing tools, advice, and videos; and search for a qualified professional resume writer or career coach using CDI's free job search center.
About CDI: Career Directors International – http://www.careerdirectors.com
CDI is a global professional association that is committed to ensuring that career and resume professionals can grow and thrive in a rich, vibrant, exciting, safe, and nurturing environment. CDI is focused on championing the industry's cause for credibility and visibility; fostering exceptional success in every generation of career and resume professionals; and cultivating the career superhero that exists within each one of us.
###