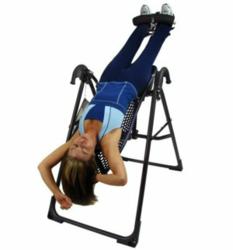 Patients who use Teeter Inversion tables were over 70% less likley to need back surgery than those that did not use Teeter
(PRWEB UK) 29 February 2012
Inversion tables are set to rocket in popularity after the results of a medical study confirmed that patients who invert with a Teeter are 70.5% less likely to need surgery than those who don't use the machines. A fact that won't surprise clients of European distributor, Health Clubs at Home.
Teeter Inversion Tables help relieve stress, stimulate circulation, improve posture, reduce muscle tension, strengthen ligaments, increase flexibility and reduce the effects of aging caused by gravity. A list of benefits so long that Health Clubs at Home have no problems selling Teeter's many inversion products.
Indeed, over 97% of Teeter customers reported satisfaction with the quality and function of their tables, and more than 90% would "definitely recommend" Teeter to a friend.
So what do you need to do to reap these advantages, and how does it all work?
Inversion is a passive activity that requires only a few minutes of your day, yet can benefit your body in so many ways. While inverted and relaxed, your body weight creates traction that lengthens the spine by increasing the space between the vertebrae. This relieves pressure on the discs and nerve roots - less pressure translates into reduced back pain. Just as important, thousands of people who invert regularly gain the rejuvenating effects of inversion on the entire body, providing health benefits far beyond the relief of back pain.
Just some of the health boosts the inversion tables provide are; they re-hydrate discs, reduce nerve pressure, realign joints, relax tense muscles, strengthens ligaments, increases joint lubrication, improves joint flexibility and range of motion, encourages proper posture and body symmetry, helps improve circulation, helps increase oxygen flow to the brain, improves lymph flow for a healthier immune system, reduces the effects of aging caused by gravity, enables the body to stretch, corrects minor skeletal misalignments, and finally, helps to reduce muscle pain. All of these benefits are obviously huge pluses for most people, but they are particularly useful for very active people, such as athletes, and also to those with long-term back pain.
Teeter inversion tables are voluntarily tested to satisfy safety standards, and the Teeter Hang Ups EP model have been awarded the highest safety factor of any model tested, allaying any fears about using the machines.
Not only can inversion therapy help to treat back pain, but it also can be used as a method to reverse other negative effects that gravity has on your body. Over time, gravity can contribute to problems with circulation, height loss, prolapsed organs and general body functions.
Inversion can also be used as a proactive approach to help maintain overall health. Hanging upside down will help stretch and relax muscles, reduce stress and tension, and provide healthy movement for ligaments.
Teeter Hang Ups inversion tables represent the highest quality standards and durability in inversion equipment, and are the only inversion table in the world that has the prestigious UL standard medical certification. Exclusive distributors Health Clubs at Home are one of the UKs leading fitness equipment specialists, who are also known for distributing Fluid Rowers and the highly regarded Vplate vibration plates. Why not visit http://www.healthclubsathome.com or ring 0808 149 3223 to find out how you too can start reaping the benefits of a Teeter machine.
###