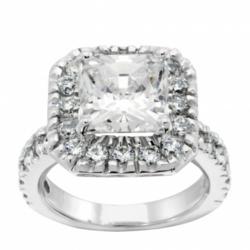 Because Diamond Nexus jewelry is made with man made diamond simulants, more customers were able to purchase high-quality jewelry, this Valentine's Day than ever before
(PRWEB) February 28, 2012
Topping the list were affordable engagement rings. Traditionally, it has always been a very popular time for couples to get engaged. Diamond Nexus was expecting plentiful orders, but predominantly those made later, usually sometime in February. This year, however, employees were surprised to see a change in the pattern of buying.
Purchases were being seen as early as January, as customers planned earlier and shopped wisely. "Men this year who were contacting us for inexpensive engagement rings, did an excellent job of allowing themselves enough time to plan the purchase and get the ring well before the big day. We loved being able to help remove some of the stress off their plates, as this is one of the biggest days of their lives," stated Tracie Grube, Retail Manager.
"Because Diamond Nexus jewelry is made with man made diamond simulants, more customers were able to purchase high-quality jewelry, this Valentine's Day than ever before," continued Grube. "At the retail stores, we saw a large increase in purchases from young adults too. It is evident that girls of every age love to get sparkling jewelry for Valentine's Day!"
"This year, we really saw customers plan out their holiday shopping quite nicely. Usually, there are quite a few people that wait til the last minute to order, but this year we didn't really see that happen at all," commented Rachel Kashishian, Call Center Manager. "Avoiding the last minute scramble for presents obviously kept a lot of guys out of the dog house this year and we were happy to help them out."
"With the wedding band sale almost ending now too, for anyone who just got engaged, this would be the best opportunity to add the wedding band since they are 15% off, through February 29th. It is a great way to save a lot of extra money, and get the band now," Kashishian added.
Diamond Nexus was founded in 2004 with the purpose of bringing to the public the powerful benefits of the diamond simulant revolution. They have over 200,000 customers worldwide that have awarded them an "A+" rating with the BBB, and are rated a top ten online jewelry store according to the IR500 list. For two years in a row brides from The Knot have selected them as their Best of Jeweler. Diamond Nexus currently has two retail locations: their flagship store at Woodfield Mall in suburban Chicago, Illinois, and a second store at Mayfair Mall in Milwaukee, Wisconsin. In 2009 the company was named the official jeweler and crown maker of the Miss Universe Organization as part of NBC/Universal's "Green is Universal" environmental initiative.
###