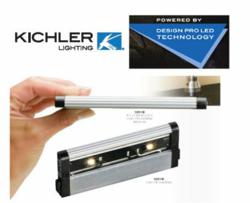 North Berwick, Maine (PRWEB) February 29, 2012
Having sold and recommended Kichler incandescent and CFL lighting for years, plumbingandlightingfixtures.com LLC was eager to add Kichler Design Pro LED Indoor Lighting to their online inventory when it became readily available.
PLFixtures found, after a thoroughly study, that besides the energy savings and longevity aspect of Kichler LED lighting, the ease of design and installation of this product made it extremely suitable for not only professional, builders and remodeling contractors, in both a residential or a commercial environment, but very well suited for the do-it-yourself home owner.
The modular designs created by the Kichler designers are truly a cost saving attribute in both installation time and in the long term service and maintenance of the product in their own right. For example; Kichler Design Pro LED Modular 2.0 24 Volt DC consists of the fixture(s), an optional full range dimmer switch module (12357 BK), and optional night light module (12356 BK). Fixtures and modules can be snapped directly together or connected by interconnect cables. This under cabinet or under shelf system is so versatile, Kichler Design Pro LED Disc lights can be added by using the 12359 BK Disc Driver module.
PLFixtures has discovered after seeing an actual installation of Design Pro LED Modular lighting that the product can be virtually invisible with compact size. Example a 12311 2-light LED under cabinet fixture module (pictured at right) measures only 6" L x 2-3/8" W x ½ " High. Equally impressive is the size of the LED disc lights from the Kichler Design Pro LED 24V Disc 2.0 system (also pictured at right). Measuring only 2-3/4" Diameter x 3/8" High they are again, virtually invisible behind the lip of an under cabinet installation.
Both the 24V LED Disc system and the 24V LED Undercabinet system are fully dimmable.
PLFixtures is also carrying Kichler Design Pro LED Direct Wire 2.0 120 Volt system favored by many professionals looking for a fast, simple energy efficient solution for Undercabinet . Both dimmable and non-dimmable fixtures are available. This system can be direct wired or the 10582WH Power Cord and Plug can be used.
plumbingandlightingfixtures.com, LLC.
361 Beech Ridge Rd.
North Berwick, ME 03906
866-376-9851
sales(at)plfixtures(dot)com
Kichler® is a register trademark of Kichler Lighting
###