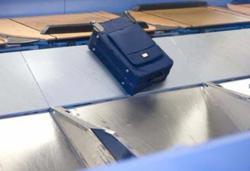 The Airport Authority also embraced sustainability as a core value and choose Vanderlande's GREENVEYOR , a conveyor with many operational environmental benefits.
Atlanta, GA (PRWEB) February 29, 2012
Vanderlande Industries completed the first part of the baggage handling system for Edmonton International Airport in Alberta, Canada which successfully opened the doors to its new U.S. Departures expansion on February 11th 2012. Passengers flying to the US are treated to a speedier, comfier and easier experience as EIA opened its new terminal, which is three times the size of the previous US departures area. Henk de Groot, VP of operations at Vanderlande Industries said, "Vanderlande is proud that the airport chose to use our Baxorter which shortens the transfer times on connecting flights and adds to improved passenger experience. It also supports their vision of being a world-class airport. The Airport Authority also embraced sustainability as a core value and choose Vanderlande's GREENVEYOR, a conveyor with many operational environmental benefits. "
Edmonton International Airport (EIA) executes a major airport development program, Expansion 2012. The terminal building is expanded to the south and will allow up to 13 more aircraft gates. The project started in September of 2009 and is almost complete. The final phase, which will be the implementation of a central hall, will be completed by December of 2012. Vanderlande Industries has been awarded the contract for the baggage handling system for the program. This one-of-a-kind system implements three levels of screening utilizing High Speed CT EDS machines, a Baxorter to sort bags and buffer them, IPC controls, BIWIS at the drop lines and a GREENVEYOR. The system allows baggage that is arriving at US airports to bypass additional screening. It also gives inbound flights from Edmonton the privilege of the shortest transfer times.
The new transporter terminal is about 1.2 kilometres long, including an expanded US Customs and Border Protection space, which is four times larger than the original.
Vanderlande implemented the BAXORTER for consolidation of the existing hold baggage screening (HBS) systems into one screening loop. With the BAXORTER Vanderlande Industries offers a cost-effective baggage sorting solution that meets a wide range of airport demands. The BAXORTER has a capacity of 3,000 trays per hour and high flexibility in the number of outputs to flights or destinations. This makes it ideal for many smaller to medium-size airport applications. Additionally the gentle and predictable sorting principle enables sorting of bags while maintaining their orientation, making it an ideal sorting technology for screening applications where a fail-safe tracking of bags is essential.
The GREENVEYOR is Vanderlande's new energy efficient baggage conveyor which uses less energy than the existing baggage conveyors (possible savings up to 40%). The Airport Authority has embraced sustainability as a core value and fully appreciates the GREENVEYOR. Vanderlande's baggage conveyors already have a proven track-record as a reliable building block for baggage handling systems. However, the world is changing, fuel prices are increasing, and businesses and the environment demand sustainability by improving energy efficiency and wasting less material. Airports are especially under scrutiny for their carbon footprint. GREENVEYOR is the energy efficient new baggage conveyor that sets a new standard and significantly contributes to a 'greener' baggage handling operation by saving on energy.
Profile of Vanderlande Industries
Vanderlande Industries leading baggage handling solution provider
Vanderlande Industries in Atlanta serves the baggage handling market at airports as well as the materials handling system market for distribution and parcel & postal in North America. As far as the baggage handling market our systems can include self-check-in, high-speed transportation, integrated Hold Baggage Screening, baggage carousels and more. Automated Baggage Storage can be integrated to handle bags by priority. Vanderlande Industries offers tailor made solutions that improve the competitiveness of its customers. The headquarters for North America is located in Atlanta, GA, USA. Vanderlande Industries employs over 2000 employees in 15 countries. Please visit our website http://www.vanderlande.com.
###