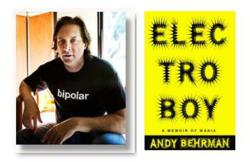 "ELECTROBOY is every bit exhibitionistic as the author himself; a candid story of the tortures of mental illness by a writer who illustrates with absolute clarity a world in which nothing is clear."
~ Barnes & Noble Review
San Diego, Ca (PRWEB) February 29, 2012
On March 10, 2012 at 6:00 pm PST Andy Behrman the author of "Electroboy: A Memoir of Mania," published by Random House will be appearing as a guest on the Runaway Mind Show on Blog Talk Radio.
As far as manic-depressive tales go, Andy Behrman's story is typical. His illness went undiagnosed for a decade, a period of euphoric highs and desperate lows highlighted by $25,000 shopping sprees, impetuous trips to Tokyo, Paris and Milan, drug and alcohol binges, days without sleep, sex with strangers and jail time. After seeing 8 psychiatrists, Andy finally received a diagnosis of bipolar disorder on his 32d birthday. Over the next year and a half, he was treated unsuccessfully with more than 30 medications. Andy's suburban New Jersey upbringing, achievements as a film major at Wesleyan and a thriving career in public relations wouldn't help.
As a mental health writer and speaker who has traveled to more than fifty cities across the United States and Canada, Andy speaks to more than two hundred mental health organizations and support groups, psychiatrists, psychiatric nurses, college audiences, and book clubs, frequent contributor to mental health websites including "Healthline." He has appeared on Anderson Cooper 360, NPR Radio and on the cover of Bipolar Magazine. http://www.electroboy.com "Electroboy" is currently being made in to a feature film. A graduate of Wesleyan University in Middletown, Connecticut, he currently lives mania-free in Los Angeles with his wife and baby. Not only is Andy working on the sequel to Electroboy, but he's also writing a self-help book for sufferers of bipolar disorder, depression, and other mood disorders.
Maggie Reese, host of the Runaway Mind Radio Show and author of the book "Runaway Mind, My Own Race with Bipolar Disorder", wrote this book to fulfill her vision of helping others living with the Bipolar Disorder as well as their families and friends find hope that a person with this mental illness can lead a normal productive life.
The International Bipolar Foundation nominated and approved Maggie Reese to be on their Executive Board and she is the recipient of the 2011 Young Advocate of the Year Award presented by NAMI of San Diego.
Maggie continues to plant the seeds of hope for those living with and affected by the Bipolar mental disorder through her website at http://www.runawaymind.net. Follow her journey at her blog Maggie's Runaway Mind world at http://chicwildmamma.blogspot.com, post questions and follow her on Facebook at http://www.facebook.com/RunawayMind. Maggie can be heard monthly on new show Runaway Mind on Blog Talk Radio interviewing her guests in a fun and deeply honest style
STAY TUNED to the Runaway Mind Show in April when you will hear John McManamy (http://www.mcmanweb.com) author of "Living Well with Depression and Bipolar Disorder: What Your Doctor Doesn't Tell You That You Need to Know."
SAN DIEGO: Maggie Reese will be speaking for DBSA on Monday, March 5 2012 from 6pm – 8pm to share how she was diagnosed with Type I Bipolar Disorder, her medications, and her road to recovery.
###