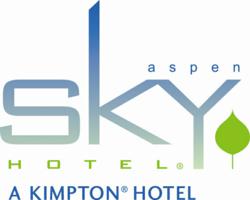 ASPEN, Colo. (PRWEB) February 29, 2012
Kimpton's Sky Hotel, the chic slope-side property in downtown Aspen, announced today plans for a stylish renovation to provide a refreshed look and feel for the hotel's 10th anniversary.
This spring, Kimpton's Sky Hotel will begin phase one of a two-part renovation, which includes updates in guestrooms as well as the interior corridors, with additional public space and patio updates planned for Spring 2013. Hollywood designer, Dayna Lee with Powerstrip Studios, will be the woman behind the vision, offering color and style updates — enhancing comfort through distinctive design.
"The Sky Hotel has always been a destination that prided itself on being one of the chicest hotels in the U.S.," said Corey Enloe, general manager at the Sky Hotel. "Dayna Lee did such an amazing job with her redesign back in 2007 that we're thrilled to have her back on board and excited to see what her creativity brings to our upscale, yet playful, hotel."
Staying true to its 70s ski lodge timber architecture, the design teams plans to emphasize the hotel's casual playfulness by designing a grown-up deluxe version of the classic ski chalet laced with modern expectations. Inspiration will be found through timeless ski films (think Robert Redford in "Downhill Racer"), and of course, the muse of Aspen Mountain.
Recently recognized as, "A Place to be Scene" by Travel + Leisure magazine, "One of the Top 10 Places to Bar Hop Around the Globe" by USA Today for the hotel's lounge, 39 Degrees and "A Boutique Property with a Progressive Vibe" by Wine Enthusiast magazine, the Sky Hotel will begin renovations of the guestrooms and interior corridors in mid-April and will be complete in late May. The hotel will be closed April 23, 2012 and will re-open May 24, 2012.
The hotel will debut the completion of phase one for the revamped property with a launch event on June 1st, 2012, just in time to kick-off the summer season in Aspen.
ABOUT THE SKY HOTEL AND 39 DEGREES LOUNGE
Celebrating its 10th anniversary, The Sky Hotel and 39° Lounge is a Kimpton Hotel with a unique combination of serenity and style. Nestled at the base of Aspen Mountain, The Sky Hotel offers world-class shopping, a bustling nightlife, vibrant cultural scene and family-friendly activities - all close at hand. This high-style four-star boutique hotel is a popular destination for locals and visitors with an engaging mix of whimsical and luxurious design elements, coupled with friendly and professional service. For more information on additional packages and specials, call (970) 925-6760, visit http://www.theskyhotel.com or connect with us on Facebook at http://www.facebook.com/SkyHotel or follow us on Twitter @skyhotelaspen.
ABOUT KIMPTON HOTELS & RESTAURANTS
San Francisco-based Kimpton Hotels & Restaurants, a collection of boutique hotels and chef-driven restaurants in the US, is an acknowledged industry pioneer and was the first to bring the boutique hotel concept to America. In 1981 Bill Kimpton founded the company that today is well-known for making travelers feel welcomed and comfortable while away from home through authentic and unscripted customer care, stylish ambience and embodying a certain playfulness in its approach to programs and amenities. Adjacent to the hotels are locally-loved, top-rated, Kimpton restaurants. Kimpton leads the hospitality industry in ecological practices through its innovative EarthCare program that spans all hotels and restaurants. Market Metrix, a recognized authority and leader in feedback solutions, consistently ranks Kimpton above other hotel companies in luxury and upper upscale segments for customer satisfaction. Privately held Kimpton was recognized by Fortune Magazine as a Best Company to Work for in 2012. The company operates more than 50 hotels and more than 50 restaurants in 23 cities. For more information visit http://www.KimptonHotels.com http://www.KimptonHotels.com or call 1-800-KIMPTON.
###