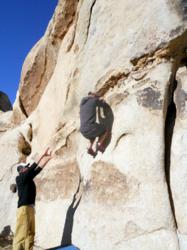 They are forced to trust me. I want to challenge [the residents], and [have them] establish trust not just in me, but in someone.
Flagstaff, Arizona (PRWEB) February 29, 2012
Robb Faus came to Back2Basics Sober Living a year ago and has now moved up as the Outdoor Adventure Director with hopes to develop the program even more so. With his experience as a Firefighter/Paramedic specializing in SCBA, rope rescue and urban search and rescue, back country guiding, personal training, participation in triathlons and holds a degree in Fire Science, stepping into the role of Outdoor Adventure Director came naturally.
"Through my firefighting experience I've see a lot of things go bad. Having to remain calm and cool has definitely been an asset. Being a trainer has prepared me by staying mentally and physically strong. School can't teach you the real life experiences that I've gone through," said Faus.
Despite Faus' extensive background and ability to keep calm even in intensive situations, he admits there is a difference in assisting young adults struggling with drug and alcohol addiction. "In my previous experience [being outdoors] was something my clients wanted to do. At Back2Basics the residents don't always want to be out there doing 20 mile hikes. At first, negotiating that was difficult," said Faus.
Faus has to keep in mind the residents physical and emotional capabilities when planning an outdoor adventure. "Trip planning is a regular part of my job. [I also act as a] personal trainer by assessing what they are capable of doing at the time. A back country, backpacking trip to Grand Canyon is hard without a large backpack on, let alone with. I also check weather patterns," said Faus.
Faus carried an outdoor adventure assistant role before moving in as the director. He has been able to watch the program progress. He has also seen former Back2Basics resident Chase Christensen assume the Assistant Outdoor Adventure Guide position, which Faus says has been extremely rewarding.
"Chase brings so much to the table. Seeing him go through sobriety, and then now be a success at B2B is great. He is a role model. Chase can identify with the residents. He can talk the talk because he's walked the walk," said Faus.
Although Faus has not gone through a drug and alcohol recovery program himself, (he identifies with Al-Anon) he has witnessed, first-hand the benefits of Back2Basics.
"Best thing is to see the process work - they get something valuable out of something that they didn't want to do, or believe they could do," said Faus. "They are forced to trust me. I want to challenge [the residents], and [have them] establish trust not just in me, but in someone."
###