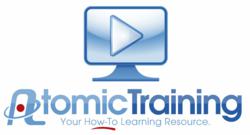 Don't let your employees waste company time figuring out their software applications.
Little Falls, MN (PRWEB) February 29, 2012
On-demand software training company, Atomic Training, is now offering their software Help Desk Solution that will lower company training costs and increase employee productivity for medium and large businesses and organizations. With this Help Desk Solution featuring over 45,000 software training tutorials covering more than 140 common software applications, employees can easily find exactly what they need fast, and move on with their day.
"When deadlines are critical, and time is running out, our Help Desk Solution can be a very valuable resource to eliminate barriers for completing a project. Using our Search and Find toolset, a user can find an answer to a software based question in a matter of seconds without having to venture out into the vast web," says Clay Moore, National Sales Director. "Don't let your employees waste company time figuring out their software applications."
Learn more about the benefits this solution offers by joining a free webinar on lowering training costs while increasing employee productivity. Also learn of Atomic Training's upcoming SCORM compliant solution through OpenSesame. Attendees will receive 3 months of free training and a complimentary gift for learning how Atomic Training's cost-effective Software Help Desk Solution can work for their business.
30-Minute Webinars:
Thursday, March 1st at 3 p.m. Central
Tuesday, March 6 at 9 a.m. Central
Thursday, March 8 at 4 p.m. Central
Register Now!
For more information visit their Help Desk Solution page at http://www.atomictraining.com/help-desk
About Atomic Training:
Atomic Training provides on-demand software training and support tutorials to help businesses and organizations fulfill staff technology training and development goals. Atomic Training was established in December 2010 as a division of, parent company, Atomic Learning. Atomic Learning has been providing high impact e-Learning solutions for more than ten years to 16 million users in 45 countries.
Contact
Clay Moore
Cmoore(at)atomictraining(dot)com
866-259-6890 x221
###