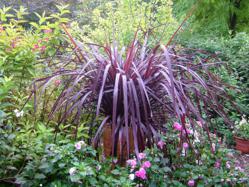 "Steal these great story ideas for your garden column, blog or article. Each story idea has third-party resources, high resolution images, video and more!"
Lawndale, CA (PRWEB) February 29, 2012
In a pinch and need a gardening story now? Pressed for time? Here are six handy "2012 Story Starters" gathered by Tesselaar Plants cofounder and president Anthony Tesselaar.
Each ready-made story idea offers copy on a popular gardening subject, along with expert quotes and hi-res images large enough to reproduce in print. Images and videos can be easily downloaded from Tesselaar's online newsroom.
All content is copyright free and you can use as many images as you'd like – (it's not necessary to credit us for images, but we'd appreciate if you could mention the Tesselaar plant name in the caption). Hope these Story Starters help you out!
Story Starter 1: Right plant, right place
How do you find a plant for those less-than hospitable places in the yard? Here are a few such spots and the perfect plants for them, according to Dave Epstein of how-to gardening video site Growing Wisdom and Anthony Tesselaar.
Location: Driveway and/or side of road.
Solution: Next Generation Flower Carpet® roses for continuous, season-long blooms, salt tolerance and outstanding heat and humidity resistance.
Quote: "It's a nice greeting for people as they come in from the road, and you're taking a lot of heat off the driveway," says Epstein in his new video, "How to Find a Plant for Any Location."
Hi-res images:
Next Generation Flower Carpet Pink Supreme by road
Next Generation Flower Carpet Pink Supreme by road (with house)
Fact sheet: Next Generation Flower Carpet roses
Video: "How to Find a Plant for Any Location" by Growing Wisdom's Dave Epstein.
Location: Narrow space that could use some color.
Solution: Tropicanna® cannas, which offer psychedelically colored foliage all season long.
Hi-res images:
Tropicanna cannas (from left: Tropicanna original, Tropicanna Gold, Tropicanna Black)
Fact sheet: Tropicanna cannas
Location: Hot, sunny walkway that needs softening
Solution: Storm™ series of agapanthus (including the deep blue-flowered Blue Storm and the white-bloomed Snow Storm).
Quote: "If you've got a piece of hardscaping like pavers or a walkway, the ground around it tends to heat up even more," says Anthony Tesselaar. "In these spots, the Storm agapanthus series is a great choice, especially if you're looking for something different with an exotic, architectural look." The Storm series, he adds, is the only variety of agapanthus to have survived the Dallas Arboretum's famous plant "trials by fire" in intense heat, drought and humidity. "Unlike other agapanthus, it also has a shorter, denser, clump-forming habit and has been known to rebloom two to three times a gardening season."
Hi-res image: Blue Storm agapanthus, Snow Storm agapanthus
Location: Low spot with heavy foot traffic
Solution: Creeping thyme (i.e. 'Pink Chintz')
Quote: "There are also varieties of thyme, like lemon thyme, that when you step on them release a wonderful scent," says Epstein.
Story Starter 2: Right rose, right place
"In a nursery, you may be a little bit overwhelmed with all the roses you have to choose from," says Dave Epstein in his new "How to Choose Roses" video. "Well, the reality is, you need the right rose for the right location."
In the video, Epstein demystifies the rose selection process with an overview of three popular, easy-care landscaping rose lines - Flower Carpet, Knock Out and Drift - and shows how each can be used to its best in the garden.
Epstein recommends a little research before you shop, so you know you're choosing the right plant for the right place: "Remember, when you go to the nursery, all the roses may look the same in the pot, but in a few years, they're going to look a lot different."
Here are more details from Epstein's video:
Flower Carpet roses: Because they're salt- and drought-tolerant, they're perfect alongside roads and driveways. Their season-long blooms and full, sprawling, bushy form also make them ideal for filling out large blocks of color. Because they can grow up and around things, they're also good for softening visual elements like fence posts, chain link fences, rocks, hardscaping and garden art.
Quote: "It's more of a creeping rose than something that's going to get high," says Epstein.
Hi-res image: Next Generation Flower Carpet roses along driveway, road
Fact sheet: Flower Carpet roses
Newer Shrub rose varieties: Because of their tall, vertical nature, they're great behind a fence, at the back of a border or walkway or anywhere else they can be used as a tall screen or canvas upon which you can layer levels of shorter plants.
Quote: "Wherever you plant them, just make sure you're OK with them getting this high," says Epstein, standing behind a shoulder-height Knock Out shrub.
Drift and other smaller varieties: "They stay smaller than Flower Carpet roses," says Epstein. "They're best suited for a small container on the patio or balcony."
Story Starter 3: 10 steps to easy-care beds and borders
Garden beds and borders, artfully filled with a colorful tapestry of flowers and foliage, are very much back in vogue. But unlike the traditional English perennial beds and borders, which were labor intensive and peaked mainly in spring, today's garden plots are filled with plants designed to perform better, require less care and offer year-long interest. Typically, they combine tough, flowering perennials with hardy shrubs, bulbs, grasses and other foliage plants, with a new twist on the look emerging each season.
Here are 10 tips and tricks to keep in mind:
1. Develop your point of view. "Decide where you're going to look at the garden the most, says garden writer Doug Green in "The Easy Way to Design Perennial Gardens" on Doug Green's Garden website. "This is the point of view. In other words, you're looking at the front of the garden."
2. Spread the love. "The trick to having a garden that blooms all summer is to pick an equal amount of flowers for each of the three bloom periods," says Green in his "How to Design a Perennial Flower Bed" article on his website. "And the second trick here is to space them equally through the garden."
3. Create a backdrop. "A tall flowering hedge at the back creates a canvas for the rest of your 'art,'" says Anthony Tesselaar. He suggests Fairy Magnolia® Blush, with its dark-green, compact foliage and masses of russet-colored buds followed by heavenly scented, spring flowers: "Who wouldn't love a fragrant, flowering hedge to divide or frame garden spaces?"
Hi-res image: Fairy Magnolia Blush
Fact sheet: Fairy Magnolia Blush
4. Make it mow-friendly. Add a mowing strip for ease of maintenance around the outside of the bed or border. Straight lines or broad curves look best and are easy to keep neat. In his "Perennial Flower Garden Design" article on his website, Green suggests laying out a garden hose or two to make the curves smooth enough to mow around.
5. Invest in edging. "The use of landscape edging, if done properly, can reduce the time and effort any gardener takes to maintain the garden," says Green in his article "Options in Landscape Edging" on his website. Plastic landscape edging can be a real time-saver, he adds, but cheaper isn't better. "Cheaper edging has several characteristics: the plastic is thinner - degrades in the sun faster - and it's often not as 'tall,' so the amount that actually goes into the ground is shorter, allowing grass roots to go underneath the edging, or it doesn't come with enough holding stakes and easily bends out of shape, or worse yet – pops out of the ground."
6. Choose a range of heights. "Go tall in back; medium in the middle and low in the front," says Tesselaar. "But don't line them up like a school photo. Think overlapping drifts."
7. Include evergreen and long-blooming plants for year-round color and texture. "Festival™ Burgundy cordyline, for instance, has become a favorite with its cascading mass of grass-like, bright-burgundy leaves spouting from a short central base," says Tessleaar. In his perennial gardening blog, Green also suggests these perennials that bloom all summer: corydalis lutea, coreopsis, campanula, chrysanthemum or Shasta daisy, gaillardia (blanketflower) and daylilies.
Hi-res image: Festival Burgundy cordyline
Fact sheet: Festival Burgundy cordyline
8. Select plants with strong form and color. "One or two kinds are enough, and repeat them throughout the border," says Anthony Tesselaar. "For instance, try the tall, broad-leaved, colorfully foliaged Tropicanna cannas for season-long interest and a dramatic effect that looks great in any combination of plants." Another great choice for exotic, architectural form, he says, is the Storm series of agapanthus, that when established, provides up to 100 stems all uniform in height. Featuring either blue or white flowers, Storm agapanthus forms lush tufts of dense, strappy leaves, even when not in bloom.
Hi-res images: Tropicanna cannas, Blue Storm agapanthus, Snow Storm agapanthus
Fact sheets: Tropicanna cannas, Storm series of agapanthus
9. Add some shrubs. "I'm incorporating shrubs directly into all my borders now," says Green. "In fact, one of my front beds is being designed and planted to be mostly shrubs and bulbs, with a few shrub roses and fall-blooming annuals for late season color." Flower Carpet roses, for instance, can produce more than a thousand blooms per bush and bloom from May through late November.
Hi res image: Next Generation Flower Carpet roses (Amber) in border
Fact sheet: Flower Carpet roses, Next Generation Flower Carpet roses
10. Don't underestimate the power of white. Try combining white-variegated or white-bloomed plants with contrasting shapes, like Volcano® phlox or Snow Storm agapanthus (the only agapanthus to survive the Dallas Arboretum's heat).
Hi-res image: Volcano Phlox (white), Snow Storm agapanthus
Fact sheet: Volcano Phlox, Storm series of agapanthus
StoryStarter 4: Garden Challenge Cheat Sheet
To every problem there's often more than one solution. Here are some tried and true tips for some of the biggest garden challenges:
Problem: Slope or hill
Solution: "The simplest solution for landscaping a slope - which people often want to fill with something besides turf grass, because they don't want to mow - is groundcovers," says Tesselaar. "There are many foliage-only options out there, but if you want season-long color and blooms, an excellent choice is Flower Carpet groundcover roses." They root deeply, explains Tesselaar, and therefore provide erosion control. Salt and drought tolerant, they're also perfect for slopes by the road that get sprayed with road salt in winter, and any slope in summer (since the water runs off of steep grades, making slopes very quick to dry out in the heat). And when planted in masses, Flower Carpet roses provide quickly spreading coverage.
Hi-res images:
Next Generation Flower Carpet roses (Pink Supreme) on a slope
Next Generation Flower Carpet roses(Pink Supreme) on slope by a pool
Fact sheets: Flower Carpet roses, Next Generation Flower Carpet roses
Problem: Deer
Solution: While no plant is completely deer-proof, there are clearly some that aren't their first choice on the salad bar. One is Festival Burgundy cordyline,
which creates an ebullient fountain effect of burgundy-colored foliage in the landscape and because of its drought-tolerance, is also great for containers. Agapanthus is also deer-resistant, according to Texas A&M and Oregon State universities (check out the Storm series – the only agapanthus to have survived the Dallas Arboretum's famous "trials by plant fire" in extreme heat and humidity).
Hi-res images: Festival Burgundy cordyline, Blue Storm agapanthus, Snow Storm agapanthus
Fact sheets: Festival Burgundy cordyline, Storm series of agapanthus
Problem: Dry, hot site
Solution: Use xeriscaping strategies like mulching, soil amendments, turfgrass reduction, land contouring to catch rainfall, irrigation control technology and proper plant placement and spacing. In the landscape and in containers, also use waterwise plants, like Next Generation Flower Carpet roses (specially bred to withstand extreme heat and humidity) and the architectural Storm series of agapanthus. Like the Storm series, Flower Carpet roses have also earned high marks in the Dallas Arboretum's plant trials in extreme heat. Festival Burgundy cordyline (see above) is also a good choice. Other sustainable plants include maiden grass, 'Elijah' blue fescue, little bluestem, leatherleaf sedge, pampas grass, muhly grass, blue panic grass, Oriental fountain grass, Japanese blood grass and dwarf bamboo 'Sunset Glow' (noninvasive).
Problem: Wet conditions
Solution: Use one of today's modern, disease-resistant plant varieties that resist fungal problems thriving in wet weather, like Festival Burgundy cordyline or the Storm series of agapanthus, for instance. Flower Carpet roses, meanwhile, have earned many All-Deutschland-Rose designations – the world's highest honor for disease resistance against fungal diseases like black spot.
Hi-res images: Next Generation Flower Carpet roses (Scarlet), Volcano phlox
Fact sheets: Volcano Phlox, Flower Carpet roses, Next Generation Flower Carpet roses
Story Starter 5: Attract birds, butterflies – and kids! – to your garden
The garden comes alive with wildlife, adding sights and sounds to the sensory experience. It's also a great way to pique the interest of kids, who enjoy spotting and feeding these pretty, winged friends. Here are some bird- and butterfly-friendly plants to try at home:
Phlox: "Garden phlox may be old-school gardening, but the butterflies don't seem to care," says Debbie Hadley, guide to insects on About.com, in her post "12 Perennials That Butterflies Love." "With clusters of fragrant flowers on tall stems, garden phlox offers nectar in summer and fall," she continues. "Plant Phlox paniculata and expect visits from clouded sulphurs, European cabbage butterflies, silvery checkerspots, and all kinds of swallowtails." Try one of today's modern, mildew-resistant varieties, like Volcano phlox, which also attracts hummingbirds, according to Tony Avent, owner of Plant Delights Nursery.
Hi-res image: Volcano phlox
Fact sheet: Volcano phlox
Agapanthus: Hummingbirds love to feed on the nectar from agapanthus like the Storm series, as seen in this YouTube video. "I just love my agapanthus, all of them – because the hummingbirds love them, too," says eHow gardening expert Yolanda VanVeen. Avent also recommends cannas for attracting hummers, and the Tropicanna series, with its colorful foliage, is his top seller.
Hi-res images: Blue Storm agapanthus, Snow Storm agapanthus
Fact sheet: Storm series of agapanthus
Story Starter 6: Add a splash of color to your water garden with cannas
Did you know cannas can grow in a pond, just like any other water plant? "I grew a canna in my little pond for the last two summers, and it did great!" says Our Little Acre garden blogger Kylee Baumle, who uses the colorfully foliaged Tropicanna cannas in her Ohio garden.
"We suggest you grow them in containers first and once the leaves and new shoots become 5 to 8 inches tall, your Tropicanna can be moved into the pond," says Anthony Tesselaar, cofounder and president of Tesselaar Plants.
Then, he says, use clay or a commercial pond soil or a combination of 20 percent potting soil and 80 percent sand mix. "Use any plastic or clay pot you have – it doesn't need to be more than 10 to 12 inches high, but should be large enough to allow for the rhizomes to grow and multiply." If the pots have holes in them, line the bottom with burlap, newspaper or some other heavy-fibered material.
Mix this soil with water from the pond till it reaches a "mudpie" consistency, continues Tesselaar. Then, remove your Tropicanna from its original pot, rinse off the soil and place it into the new pot, spreading the roots (make sure the crown is 2 to 3 inches below the rim). Then fill the pot to about 2 to 3 inches from the top with your "mudpie" mix. Leave 2 to 3 inches between the soil line and the rim of the container and add gravel to give the plant a more finished look and to help keep the soil inside of the pot. Tamp the pot on the ground a couple of times, then lower it into the pond, keeping the top of the pot a few inches below the top of the water. Fertilize monthly with aquatic fertilizer.
Baumle overwinters her Tropicanna canna in its pot in a cool greenhouse at 55 degrees (a basement would also do) and doesn't water it until spring.
About Tesselaar
Tesselaar Plants searches the world and introduces new plants for the home garden, landscape, home décor and gift markets. Tesselaar Plants undertakes extensive research and development of its varieties and, once selected for introduction, provides marketing and promotional support for its plant brands through its grower and retail network. Tesselaar's portfolio of plants is small by design, given rigorous standards that result in high-quality, dramatic, prolific plants that are also environmentally friendly and exceptionally easy to grow.
The Tesselaar philosophy is to introduce exceptional plants while "making gardening easy" for everyone, and so it makes them widely available as possible. Tesselaar believes that the more gardeners there are, the better it is for everyone.
Follow us on social media
Blog: http://www.youreasygarden.com
Facebook: Tesselaar International Plants
Twitter: @tesselaarplants
Media Contacts:
Laurie Riedman / Riedman Communications
Phone: (585) 396-3100
Email: laurie(at)riedmancomm(dot)com Lisa Hutchurson
Phone: (585) 737-4240
Email: lhutchurson(at)gmail(dot)com
# # #