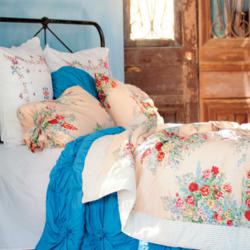 We were excited to learn that Deck My Dorm's girl's bedding and decor was used to decorate one of the girl's rooms selected as a Dorm Room of the Year finalist.
Atlanta, Georgia (PRWEB) February 28, 2012
Deck My Dorm, a top girl's bedding and girl's decor e-commerce boutique retailer, is pleased to announce a dorm room decorated with girl's bedding and decor from Deck My Dorm has been included in the finalist for the Girl's Dorm Room of the Year contest for the 2011 - 2012 school year. The girl's dorm room that was selected as a finalists highlights the dorm decorating trend of incorporating a college girl's own personal style, decorating taste and personality into a decorating plan which ultimately transforms the generic college dorm living space into an expression of personal style. 
 
"We were excited to learn that Deck My Dorm was the dorm decorating retailer for a Room of the Year finalist who selected girl's dorm bedding and decor used to transform her traditional college dorm room into a cozy, personalized retreat looking more like a vintage-inspired bedroom than the usual cold, bland dorm room," said Deck My Dorm co-founder Jana Contardi. The university sophomore's sophisticated dorm room was decorated using a satin and velvet bedding collection, unique accessories, trendy lighting and a collection of fabulous wall decor from Deck My Dorm. The vintage, Boho Chic design of this winning dorm room is only one of the many decorating style options available from Deck My Dorm. You can find this bedding and much more by visiting Deck My Dorm's online girl's boutique.
 
Deck My Dorm specializes in girl's bedding and girl's decor including a wide selection of girl's dorm bedding. Deck My Dorm offers custom dorm bedding with an option to design and create your own dorm bedding collection from their selection of designer fabrics as well as all-white, shabby chic bedding, vintage-inspired, Boho chic bedding, and Deck My Dorm's own line of designer girl's bedding featuring black and white zebra bedding and the popular "We'll Always Have Paris" dorm bedding collections. Where else can you find designer dorm bedding for girls at affordable prices?
 
In addition to girls bedding, Deck My Dorm also carries all the room decor needed to create the perfect room for every girl's individual style with it's large selection of unique decorating accessories, easy to hang wall art and fun, light-weight decorative lighting options.
 
Deck My Dorm's wide selection of girls bedding and decor features top brand names in girl's decorating. Deck My Dorm's bedding lines include the Rosette comforter from LazyBones, the White Devil Shower Curtain and all-white, shabby chic Prom Night bedding from India Rose, the popular girl's Pom Pom throws and velvet burn-out bedding from Karma Living, designer girl's velvet bedding from Davenport Home Furnishings and so many more.
 
Deck My Dorm's unique lines of decorating accessories and decor include storage trunks from Rhino Armor Trunk, Art Panels and Giclee Canvases from Papaya Art, and the full line of Small and Large Gypsy Chandeliers, just to name a few.
 
Deck My Dorm is division of leading home decor boutique retailer, Peace, Love & Decorating, and girl's bedding and decor boutique, My Royal Sister. Check out the retail store front opening March 2012 located in the beautiful Historic Downtown Duluth area just north of Atlanta at 3129 Main Street, Duluth, Georgia 30096.
###